Archive
January
February
March
April
May
June
July
August
September
October
November
December
Welcome to my blog. As a portrait photographer, I find that I have a lot to capture, a lot to share, and a lot to say. You will find some helpful tips along the way to make your portrait experience the best that it can be. Thank you for letting me share with you!
When making the decision to invest in professional portraits, it can be difficult to compare photographers and to fully understand what you can expect once your decision is made. There are many different photographers and each has his or her own style with regard to the portraits they create and how they manage there relationships with clients throughout the process. This is a good thing, because there is surely one to fit your needs and preferences. My goal in this blog post is explain the Laura Esposito Photography experience. You will find that the experience I create for you is based on my values and beliefs as an artist, a business woman, a fellow consumer, and a busy wife and mother.
Every portrait session is unique because every person or family is unique, but there are some specific steps in the process that remain the same. One common goal is that we set out to create some beautiful portraits for you to treasure and to have fun in the process. I like to "keep it simple and make it fun." Let's start at the beginning of the process to see how we make it happen.
Scheduling your portrait session
So, you have decided to entrust me with the privilege of creating treasured portraits for you and/or your family. Yay! Thank you! Let's set this up and make it happen. That means that we need to connect in order to communicate. Depending on your schedule, it can be a challenge. This is why I am happy to make that connection in whatever manner is easiest for you. A phone call (330) 704-6473 is great because we can have a conversation with much information shared at that moment in time. Unless I am engaged in a portrait session or in church, I will most likely be able to take your call. If you have never met me, you may just want to hear my voice to get a sense of who I am over the phone. However, if we have already met, you may prefer the flexibility of sending a message. I welcome messages from email (lespo@me.com), texting (330) 704-6473, and Facebook messaging (@lespophoto). I try to be prompt in my replies because I understand that you are ready to make some decisions and waiting for replies can be frustrating.
During our conversation, I will want to learn your goals for the portrait session so that we can best choose a time and place. I will want to know the subject(s) in the portraits, the intended purpose for the portraits, and any special requests or vision that you have in mind. Almost all of my portrait sessions take place outdoors, so we base our starting time on the sunset time. If you are scheduling a typical portrait session, we will make our start time two hours before sunset. This could be at 3:30 in the winter months or 7:00 in the summer. My Senior Portrait Sessions are usually the most inclusive and we often use all of the daylight we can get. A typical family portrait session is completed in an hour or less. It is important to remember that my portrait sessions are completely customizable. A family portrait session with extended family that includes portraits of various groupings will probably take longer than an hour. A High School Senior may have multiple settings that we need to use in order to fully tell his/her story. We can make that happen. If we are scheduling during busy months like September or October, we may want to get two dates on the calendar so that we have a back-up in case of rainy weather.
Once we have settled on a time and place, I will send you a portrait contract with the agreed upon information. I will ask that you review the specifics so that we are both clear on the needs and expectations from both of us. For a typical portrait session (weddings are the exception) you will bring the signed contract and payment to the portrait session. I do not require a deposit to hold your date. Thankfully, I have been blessed with wonderful clients who have never given me a reason to require a deposit.
Preparing for the portrait session
Once we have your portrait session scheduled, you will want to prepare your people, your wardrobe, and your props. I suggest that you take a look at some of the other blog posts that I have shared for helpful information. There is an entire series of blog posts dedicated to High School Seniors and one specifically for the Family Portrait Session that would be most helpful. I also suggest that you browse some of the other galleries on my website <lespo.zenfolio.com> to gain some inspiration. It is helpful if you come to the portrait session with some specific portrait ideas in mind that you really like.
This is the time when all sorts of ideas and questions will come to mind. I wholeheartedly invite you to send those questions my way. So many of my clients apologize for messaging me with questions at this point. There are no apologies needed! I am happy to help you through this thought process. Remember our goal? We want to create beautiful portraits for you to treasure and to have fun in the process. I understand that I orchestrate portrait sessions on a daily basis. Most likely, you, my client, may have a portrait session once a year or once every ten years. You will have questions and I have answers that I am happy to share. You are investing time and money in this portrait session, so we both want to make it special.
Enjoying the portrait session
The day has arrived! Yay! Here we go! Notice the title of this section: "enjoying" your portrait session. The first step is to maintain communication so that we are both clear about where and when we are meeting. If you have never met me in person, I will be easy to identify. I will be the little lady running around with a big camera and a big smile. I will want to meet everyone involved and again review our goals and any special requests that we hope to achieve. I will want to take a look at any additional outfits that will be incorporated and discuss a game plan for how we will use our time together based on the conditions of the day. This is also the time when we will take care of the signed contract and payment.
With that out of the way, let's have some fun! I will place you or your group in various settings and arrangements. Once I get you in place, prepare to see me all over the place. I will keep you in your spot, but I will be buzzing around to different angles and elevations and distances to get as much variety out of that one location as I can. This strategy adds to our efficiency and gives you more variety. I will ask you to move your head slightly this way or that. By the end, I don't even have to say anything. I love it when I barely start to move my hand and my intuitive subject does exactly what I had in mind. We become pretty connected as we work together. I will place hair, clothing, and jewelry if needed, but I always welcome other eyes (Mom) to help with that job.
During the shooting process, I must warn you that I can be rather expressive. When I look through that viewfinder and see the portrait we are creating, I become so excited and overwhelmed that I may gasp or even give the occasional "OH MY!" When I check my work on the LCD screen on the back of the camera, I am checking to see that I have used the settings that give me the desired effect. I am also checking for sharpness and to be sure that I am happy with the lighting at that location and angle. This is another time when I just can't hold back. That beautiful portrait staring back at me is energizing and sometimes emotional. I like to share some of those views with you so that you can see how amazing you look. It also helps for you to give me some feedback at this point so that I can adjust accordingly.
Viewing your portrait gallery
After your fabulous session, you go home with nothing but expectation and I go home with your beautiful portraits in my camera. That doesn't sound fair. I totally understand your excitement and anticipation. This is why I do my best to post a "First Image Edit" on Facebook so that you can see at least one of your portraits soon after our session. I take great care in editing your portraits. I want them to be perfect for you. I edit your portraits in the order in which they were captured. The portraits that I complete in one edit session will be uploaded into your gallery on my website. You will see your gallery grow over the next couple of days. I will share a few of my favorites on Facebook and Instagram as I go, so be sure to "like" my Facebook page (@lespohoto) and to follow me on Instagram (lespophoto).
Once all of your portraits have been edited and placed in your gallery, you will see some of them show up again in black and white versions or with some color adjustments. This is where I use my artistic judgement to give you some variety and create some works of art. When you see these additions to your gallery, you will know that your gallery is complete.
Ordering portraits
Many of my clients will agree that ordering the portraits is the hard part. The difficulty is not in placing the order, but rather in making the decisions about which portraits to order. You will probably want all of them. Many of my clients do order at least a small print of every portrait. The print prices are reasonable, so this really is an option.
One of the benefits of ordering from an online gallery is that multiple households can place orders independently of each other. You simply choose the portrait image that you would like to order and click on it. That portrait will be visible by itself on the screen. You will also see a list of the most common items to purchase show up on the right side of the screen. You will see the most popular print sizes listed as well as a few wall art options. You can select to add any of these to your cart. If you want to purchase an item that you do not see listed, you may click "VISIT SHOP" and you will be taken to a menu of product types. From here, you can look around and find other print sizes, types and sizes of wall art, and even gift options like mugs and phone cases.
Once you have placed all of the items in your cart that you wish to purchase at that time, you can check out and pay with credit card. Your order will be sent to me for approval. I will look for things like cropping of images and wall art choices to be sure that your order will be fulfilled at its best. If I see something in your order that I think you may want to adjust, I will contact you so that we can discuss exactly what you desire and adjust if needed. Again, I want you to be completely thrilled with your portraits. This is why I am happy to answer any questions you have along the way. The products will be shipped directly to you.
Depending on your purpose for these portraits, you may want some additional consultation. If you are planning a grouping of wall art on a specific wall of your home, I am happy to come to your home and discuss your options. I have samples of the various wall art products so that you can get your hands on them and see the quality of each piece. We may want to do some measuring and play around with shapes. We can talk about colors and balance. We can even place the order together so that you feel confident about what is coming in the mail.
If you have any desired use for these portraits that you do not see on my website shop, please let me know and we can find a way to fill that need. I offer other services such a photo book design and card design. Just share your ideas and we can explore options.
Remember that you can place multiple orders. There is no pressure to get everything in your first order. Your gallery will remain available to you for several years.
Maintaining our relationship
Capturing your portraits and providing you with these treasures is an intimate process and results in a relationship that I value. I will want to hear from you when you get your order to be sure that you are happy with your products. Your family and your needs will grow, and I would love to make that journey with you. Being your photographer is an amazing privilege.
You make the memories; I will help you cherish them.
Love and Smiles,
Laura
---

Lexi | Class of 2018
They say that the only constant in life is change. We can fight it or embrace it, but change is inevitable. As a photographer, I am very thankful for the changes in technology, technique and trend. My gratitude is not because these changes make it easier, but because they help me to tell your story. You are special and unique. Your story is special and unique. Your portraits should be special and unique.
Nathan H | Class of 2018
When I think about you, my client, looking at your portraits, my goal is not for you to simply see them. I want you to feel them. That means that I intend for your portraits to have emotion and a connection to who you are. That mindset drives my approach to everything connected with your session. It determines the location, the lighting, the posing, the angles, the depth of field, the white balance, the saturation, the contrast, the cropping and presentation. All of these elements come together in a deliberate way to make that portrait a true reflection of you.
Kat | Class of 2018
So, how do I get to know you? There are some very subtle observations that help me to uncover what makes you special. My twenty-five years in education provided me with the opportunity to work with thousands of different people, and I have learned to pick up on the nuances of facial expressions, body language, and interpersonal interactions. I gather information from your choice of outfits and props. My purposeful small talk helps me to learn more about you. But, I have another "secret weapon" that tells me so much more...your eyes.

Matt | Class of 2018
They say that "the eyes are the windows to the soul." I believe that wholeheartedly. When I look through the viewfinder of my camera and stare into your eyes, I feel like I am seeing the real you. I am seeing the quiet insecurities and the bold confidence. I can see reserved emotions and loud exuberance. I feel like I am the only one who gets to see the amazing show happening within that viewfinder. That is, until I have the opportunity to share it in the form of your portraits.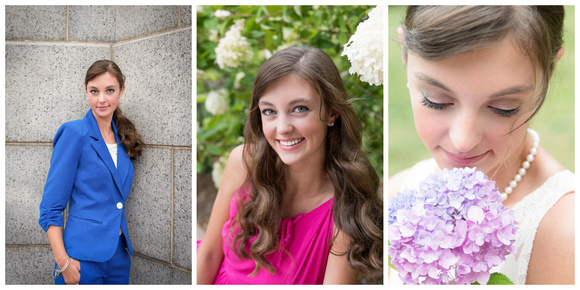 Victoria | Class of 2018
A fortunate truth is that everyone is multidimensional. You have many sides, and the fun comes when we can show those various facets through your portraits. This provides us with great variety by the time we complete your collection. These portraits will evoke different emotions which means that I will employ some different techniques to make that happen.
The quality and style of our old family portraits and my senior portraits certainly date me. The stiff poses that look just like every other portrait with the same boring background as every other portrait were the norm. I could never be that photographer. I don't want to simply provide you with a service, I want to create an experience and a gift by providing portraits that may, one day, tug at your heart.
You make the memories; I will help you cherish them.
Love and Smiles,
Laura
---

Ahhh..... The family portrait session. You see beautiful family portraits posted on Facebook and Instagram that depict the perfect family with everyone dressed perfectly with perfect smiles and perfect hair and looking so perfectly happy. But, in your mind, all you can imagine is something like what you see in the images above. The thought of getting everyone ready and where they need to be at the right time, and keeping everyone happy and trying to look fantastic yourself is just an exhausting concept. Well, it doesn't have to be. The first step to a successful family portrait session is to embrace the fact that your family is perfect just they way they are. They are perfect because of the love that binds them. It really is as simple as that. They are yours. You love them. You cherish these years that are passing too quickly. You want to capture that and treasure it, forever.
As a fan of Modern Family, I am reminded of a great episode that poked fun at the stress of preparing for a family portrait session. In typical fashion, Claire held on to the unrealistic expectation for a perfect family portrait. She was setting them all up for failure because her concept of perfection does not exist in the human world. Had things gone according to her plan, the resulting portrait would have been stiff and fake. As a result of one hilarious mishap after another, the portrait that you see above is full of emotion and reveals the genuine love that binds them. I am not advocating that your family have a mud fight right before our portrait session, but rather, remember that all of Claire's fussing and nagging was in vain.
So, what might be a better approach? Well, let's first identify the goals of your family portrait session. What do you intend to do with these precious portraits that we are creating? Would you like a piece of wall art to display on the mantle? Are you thinking about a series of three or four square canvases to hang in a series in the hallway or foyer? Do you just want something to frame on your desk and use for the Christmas card this year? Knowing our desired purpose will help us to make smarter decisions along the way.
Okay. We have our goal. How do we get there? Planning and communication are the keys. Since we have our "why" (the goal), we need to carefully establish a plan for the "who, when, where, and how," and then effectively communicate these plans to everyone who is involved in the portrait session.
Who? You might be thinking that the "who" is obvious, our family. Defining your family can require some thought. If there are step siblings, think about how you want everyone included. Would you like for any grandparents to be included? If older children have girlfriends or boyfriends, would you like for them to be in any of the portraits? Are your pets an integral part of the family? Would you like any portraits of just mom and dad? It is possible that the wedding portrait is the last good portrait featuring just the parents? What other groupings should we capture at this time? If one of our goals is to create a wall collage or a series of portraits, then what combinations would you like to feature? Identifying the answers to these questions will drive our portrait session. Communicating this information to me will make our time together more efficient. Communicating this information to your family members will prevent the need for discussions in the moment and avoid hurt feelings.
When? The sunset time dictates the time of day for our portrait session, but the time of year must be considered. Maybe you are hoping for a particular season. Fall portraits are absolutely beautiful. However, if you intend to hang this on the mantle in the formal living room which is decorated in a palette of pale blues and silver, then a portrait with oranges, reds and golds may not be a good choice. If your kiddos are involved in multiple activities, think about the time of year when the schedules are less hectic. If you have kids away at college, find out when they will be home for break. Think about your work deadlines and busy seasons to avoid. Again, communicating the time of your scheduled portrait session to all involved will help to ensure that you have everyone participating. Kindly make this information known as soon as you schedule the appointment so that all can plan accordingly. Providing tactful reminders as your session is approaching would be helpful to set your mind at ease that this is really going to happen.
Where? Sometimes the where is obvious. If you live on a farm, we will want to take advantage of that beautiful setting. If you have property on a lake or belong to a country club, then you may want to utilize those pretty settings. If your family has a special place where you have built some treasured memories, then that may be your ideal location. Is your family comfortable in the outdoors immersed in nature? Is a metropolitan look a better fit? Are we looking for casual or formal portraits? Do we need a location that can offer both?
If your family includes younger kiddos, then think about how they will engage in the location. Portrait sessions in the home with toddlers can be difficult. They know their surroundings too well. You may want them to play by the pretty tree, but they remain fixated on their Little Tikes car in the driveway. Forcing a move will surely bring tears. I love documenting toddlers exploring a new setting and capturing the wonder in their eyes. Keeping things fresh and new, but maintaining a feeling of security is key to natural-looking portraits with little ones. Again, be sure to communicate the specific location with all involved so that we have everyone together in the same place.
How? My philosophy is to keep it simple, but make it fun. The Claire Dunphy style of neurotically micromanaging every detail will add stress and set us all up for failure. If we have addressed the questions already stated above, then we are well on our way to a successful portrait session. Nonetheless, we do need to address the all-important issue of "what to wear." In the future, I will be dedicating an entire blog post to this significant element in a portrait session, but there are some key factors that I will share as they relate to the family portrait session.
Allow me to reemphasize: keep it simple. When someone looks at your family portrait, they will be focusing on your faces and reflecting on the relationships among your family members. This is not a portrait of outfits, it is a portrait of precious family members who are individuals, yet part of a dynamic family unit. That is not to say that the wardrobe is not important, but it should not become the focal point. Bold patterns and large graphics tend to take the focus away from the people. Outfits that are too matching actually become distracting. Having everyone in exactly the same thing makes it difficult for me to pose members in a way that creates layers and interest by separating bodies but still creating connectedness. This is why I advise against dressing members in black or white, not to mention that wearing black or white will wash out pale complexions.
Rather, when planning a wardrobe for a family session, it is best to choose clothing items that represent a family of coordinating colors. A few examples can be found above. Go back to your purpose. What is your intended use for these portraits? What is the color scheme in the room where you want to hang a large piece of wall art? Do you have an accent color in that room that you can use to make this portrait add interest? Is this going to be a casual or formal portrait? Does your intended setting dictate what might be appropriate? What colors look good on your family? If you want a palette of soft pastels, then remain consistent with that. If you want deep oranges, golds, and dark greens, then stay within that family. Shades of blues and tans can be a beautiful blend. I recommend laying the intended outfits out on the bed next to each other. If they are pleasing to the eye, then you are good to go.
When dressing the little ones, think about their comfort. Place your hand inside the clothes and feel it for yourself. Is there a scratchy seam where the tulle is gathered at the waist? Is there an annoying tag at the neck? Check the gathering points around arms, legs, and necks. Are they too tight? When buttoned or zipped, can they still move freely? These are things that can make for an unsuccessful portrait session. That outfit is only cute if the little body inside is happy.
Remaining consistent with the need for communication, be certain to make the wardrobe expectations clear to all members in advance of the session. You do not want to deal with a meltdown or resistance as you are trying to get everyone dressed on that day. Have the outfits set aside so that you are not rushing things in and out of the clothes dryer. Start getting ready early so that you are not rushed. If you are concerned about little people getting dirty, then dress them when you arrive at the location. Let them know that they are included in this special day and that "all of us are looking so nice today."
So, as we prepare to create your gorgeous family portrait, we will strive to "keep it simple, but make it fun." You bring me your prepped family and let me do the rest. Together, we can plan and communicate to enjoy a successful and stress-free family portrait session. Your family is already perfect. Let me show you just how beautiful that is.
You make the memories; I will help you cherish them.
Love and smiles,
Laura
---
There was a time when a portrait only existed as a sketch or painting. With the invention of the camera, a portrait could be captured on film and developed into an image on paper or some other medium. For centuries, portraits were a luxury and treasured.
It is amazing how differently we handle our images today. Most exist on our smart phones. Some get uploaded to a website or downloaded to a storage device for safe-keeping. Some get published on social media. A small percentage actually get printed and become tangible. Finding a way to display these few "print-worthy" pictures can make all the difference in how you are able to enjoy them.
Once you find that portrait that takes your breath away, you need to decide how you can use that portrait to enhance a particular space. You also need to consider what display method would make the most of that portrait for the display location that you have in mind. There is so much to consider. My goal in today's blog is to help you to better understand the options available to you with regard to displaying portraits, and to help you determine which display option would best meet your needs.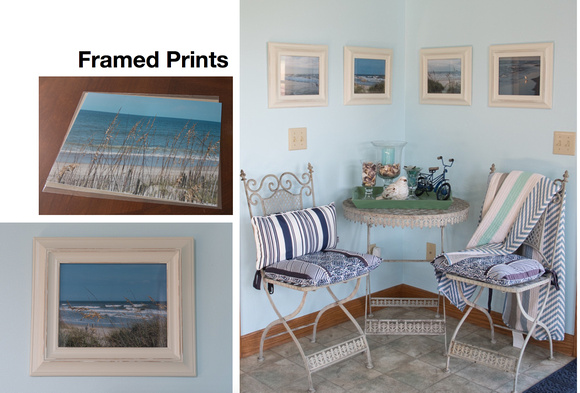 There is a significant difference in the reaction to an image that is presented as just an image, compared to an image that is displayed with a purpose. Simply placing a picture in a frame of appropriate size and in a complementary color or texture can elevate the impact of any image. Matting can certainly have the same effect. This does not have to be a huge investment. I have often purchased large framed art that had been place on clearance simply because I like the frame. I tear it apart and place my own image inside. Many of these clearance pieces of art have gorgeous frames and matting that only cost a fraction of what it would cost to buy it all separately. You can amaze yourself with the results. That portrait can come alive with enhanced depth once you get it on the wall.
If you are wiling to be a little adventurous and invest in a portrait display method that will really be something special, then you may want to consider some of the products that I offer in a category called "Home Decor." Within the Home Decor category, I will be talking about Print Wraps, Canvas Prints, Metals and Acrylic Prints. I recently purchased examples in each of these categories so that I could share the specifics with you and help you to make informed decisions when purchasing products from my website.
Print Wraps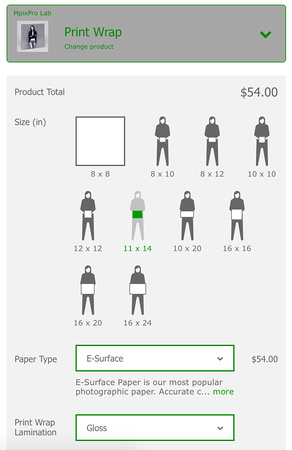 Print wraps are a fun way to give your images some dimension as the print is actually wrapped around a frame to make it a little puffy. It is about 3/8 of an inch thick. Because the edges are wrapped around the frame, you lose the ability to see the outer most edges as they get tucked into the back. The good news is that these are less expensive than canvas wraps, but are also less durable. You can choose from a wide range of sizes from 8 X 8 to 16 X 24. You can choose from the most common E-Surface paper or upgrade to the Kodak Metallic paper which has a little more luminescence. You can choose from a gloss or matte finish. I was impressed with how nicely the back is finished and that the mounting makes for easy hanging.
My print wrap sample that I ordered is 11 X 14 on E-Surface paper with a gloss finish. In the pictures, you can see how the corners are finished and the mounting block is attached for hanging. It is not very heavy, so wall mounting is not a big concern. You can see that the mounting block also elevates it away from the wall and makes your portrait "stand out" nicely. The E-Surface can be wiped off, but would not hold up very well if hung in a location where it could get dirty and require cleaning beyond dusting. So, a kitchen or bathroom where you have the likelihood for grease or steam could cause this print to show some wear.
Canvas Prints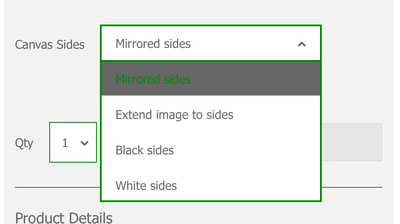 Most people have an idea about what to expect with a canvas print, as they are fairly common. These pieces are a little more expensive than a print wrap, but the improvement in quality and durability is evident. In my opinion, the canvas print really elevates a portrait to "art" status. The texture is less reflective so your portrait can be seen from most angles with no glare. The canvas prints are actually canvas gallery wraps, and how you choose to wrap will make a difference in the resulting look of the piece.
When ordering a canvas wrap, there are several choices that will impact your final product. Canvas wraps can be ordered in a range of sizes from 8 X 10 to 24 X 36. There is a drop-down menu of choices for the canvas sides. Your print is wrapped around a frame that is 1.5 inches thick, so you can choose what the sides look like. Your options are mirrored sides, extend image to sides, black sides, or white sides.
The option of "mirrored sides" is my least favorite. Your entire print will look perfectly normal from the front, but the side edges that are wrapped around the frame are a "mirror image" of what is on the outer edge of your print. I feel that it looks a little confusing for most images.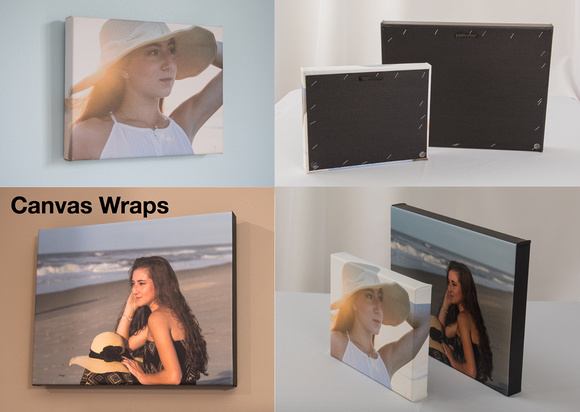 The second option, "extend image to sides," does exactly what it says. You will see less of your image on the front of the print because the outer edges are wrapped around the frame. Two of the samples that I ordered represent this option. Both the large seascape and the small close-up of my daughter in the hat are canvas wraps that extend the image to the sides. I like this option because you feel like you are still seeing the portrait as you walk from side to side. However, it is not a good option if your portrait does not have much space around the edges. You don't want important features to be lost because they are wrapped around the frame and no longer visible from the front.
The final two options, black sides and white sides, are basically the same. The entire image will be visible on the canvas from the front. There is no image on the side edges. The sides are painted black or white, depending on the preference you indicate. The sample of my daughter sitting on the beach shows the black sides option. I am very pleased with this look, as well, because I feel it frames the portrait and you don't loose the ability to see any parts of the image from the front.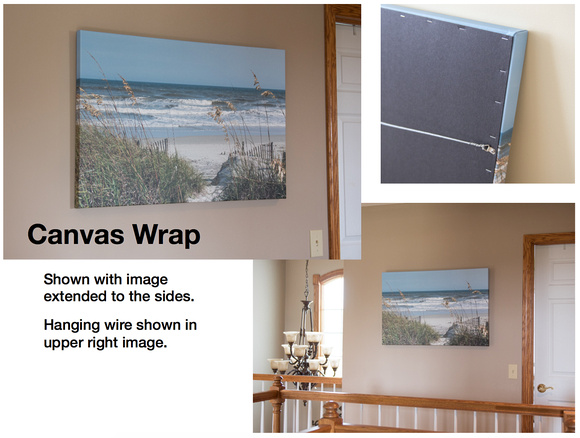 These canvas wraps are finished nicely on the back where the canvas is secured by many staples. They are ready for hanging with hardware appropriate for the size. The large 24 X 36 of the seascape has a very sturdy wire for hanging that is more than sufficient since the canvas and frame are fairly light. The other two sizes shown are 11 X 14 and 8 X 10 and have brackets attached for hanging.
Metals
The modern metal print is a fairly new option to my customers and I really wasn't sure what to expect. Let's just say, it is exactly what its name implies. It is a really cool modern look and it is metal. Now, if you are looking for durability and you want the colors to pop, then this may be the option for you. The website description says it best, "Add contemporary style to your photography with aluminum prints. Images are printed using a dye-sublimation process to create a stunning finished product." At only $49.99 for an 11 X 14, it is a very enticing choice.
These are truly amazing! I'm not sure how they get it to look so glossy and vibrant, but I was so impressed when I opened the box. As you can see from the pictures above, the easy mounting block on the back elevates the portrait away from the wall to add even more dimension. Modern metal prints come in sizes ranging from 8 X 10 to 20 X 30. I can just imagine these hanging in a business or restaurant. A home or office with a modern flair would receive a nice upgrade with these modern metal prints on the walls.
Acrylic Prints
The final Home Decor product that I am featuring in this blog is the acrylic print. I would have preceded that statement with a drum roll if I had audio because the acrylic print is truly something special. The website description says, "After the photo is printed directly to the 1/4" acrylic, a layer of opaque white ink is screen printed on the back to create a product that highlights the vibrant colors and fine details of the image." Wow! That's all I can say. Just let a little light pass behind the image and it absolutely glows. It comes with four stainless steel "standoffs" for mounting onto the wall. The mounting is rather permanent, so be sure you are willing to live with the portrait in that spot for a long time. I have not mounted mine because I intend to bring it with me as a sample when I meet with my couples for wedding consultations.
Acrylic prints only come in four sizes ranging from 16 X 16 to 19.5 X 23.5. They are an investment, but will look fabulous forever and can be easily wiped clean.
This summary shot shows a close-up of the corners of each home decor product for ease in comparison. Hover over the image to reveal the caption that will identify each home decor product.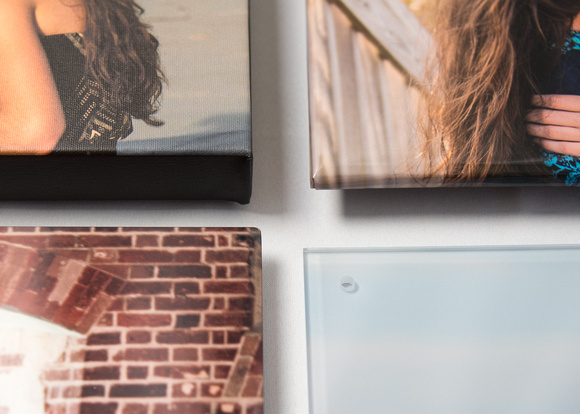 Top left - Canvas Gallery Wrap . Top right - Print Wrap . Bottom left - Modern Metal . Bottom right - Acrylic
As with all orders, there is a charge for shipping. Mpix goes the extra mile when packaging your order to be sure that it arrives at your doorstep safely. Every product was carefully wrapped in several layers of protection and secured in place with tape inside the box so that there is no bumping the sides of the box in transport. My only complaint is that it took me a long time to get through all of the layers to see my beautiful treasures inside.
I am always available to assist my clients with the ordering process, and I would be happy to offer advice about sizes, product choices, and placement in your home or office. The possibilities are endless. So, as you browse through your gallery of portraits, you may be looking with a new purpose. Take that favorite portrait(s) and elevate it (them) to a level of even greater impact. I am certain that you will love your portraits even more.
Love and smiles,
Laura
---
Once upon a time, specifically in October of 2008, this beautiful young lady took a chance and asked me to take her senior portraits. With much tempered excitement, I agreed to give it a try. Although I look back at those images and find it appalling that I delivered portraits with such poor quality in lighting and white balance, I can recall the flutter I felt capturing and editing them. I find it amazing that I am able to experience that same excitement with every portrait session, over and over again. I think they call that passion, and I am so blessed to have found mine. The blessing is even greater that I am able to make this passion my new career direction on a full-time basis.
The journey that has led me to this place has not been easy. Most things that we appreciate dearly are the things that come about as a result of adversity of some kind. You see, I was born as a teacher, a middle school science teacher, to be exact. I was fortunate enough to serve in this role for 25 years. I loved my students. I loved my science content. I loved my school. But, as they say, all good things must come to an end. The only constant in education is change. Sadly, there were enough changes in various entities that my role as teacher was no longer the same. It no longer allowed me to use my expertise as a professional to approach teaching as both an art and a science. I always felt that my creativity in these areas and my personal connections with my students made me an effective teacher.
The struggle was real, and it became manifested in a contentious teacher strike. One ugly event lead to another, and after a very difficult journey over the past nine months, I have found myself in a very good place: a place of excitement, rejuvenation, and some healthy fear. I have made the conscious decision to leave the "security" of a contracted teaching position with all of its benefits to pursue my photography business on a full-time basis.
So, what does this mean for my clients? It means that they have my dedication of time and talent to make myself more accessible to their needs and schedules. It means that I am dedicated to my professional development as I participate in courses, workshops, and webinars to learn new techniques and improve my skills. It means that I am free from distractions and able to truly focus on my role as photographer. It means that I can offer better customer service and make each portrait session a priority. Most importantly, it means that I have found a new emotional eye for my art, and this translates into more meaningful portraits.
This new "emotional eye" that I mentioned is the result of the journey that I have traveled, with the most meaningful miles passing in the last nine months. I have been forced to examine myself with raw honesty and forced myself to face the difficult questions. I credit the rewards of this journey to my amazingly supportive family and friends, my counselor who helped me to see what I already knew, and my God who placed me on this path and helped to show me the way.
Meaning and purpose. You see, I am passionate about anything that I pour myself into. At one time, this was teaching. When I was no longer able to find my meaning and purpose in education, I lost my passion; I lost myself.
Here comes the scary part. How do I find my meaning and purpose, and still contribute to the family? Already having my photography business on a part-time basis for nine years made the transition to full-time much easier. Nonetheless, I am taking a leap of faith that I can maintain this business at a sustaining level. I am pouring myself into making this work because it is my passion.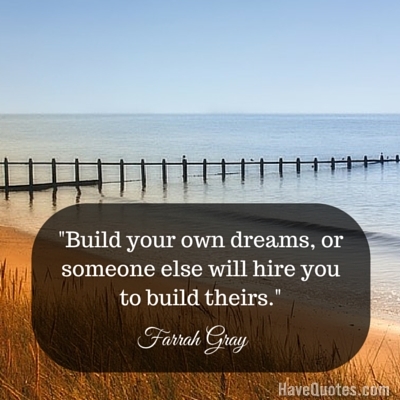 Meaning and purpose: it is here, in my role as a photographer. When I look through my viewfinder and see the composition that focuses on my subject and blocks out everything else, I feel the emotion that I intend to convey. When I see that image pop up on the LCD screen on the back of my camera, I often gasp with excitement. When I show my client their beautiful portrait, I see their face light up with a new appreciation for who they are. I see them gain some confidence. I see them embrace the process because they trust me to show the beauty they possess. When I see the emotion well up in parents as they gaze on the portrait of their child with an appreciation for the lasting memory that I am able to provide for them, I have found my meaning and purpose.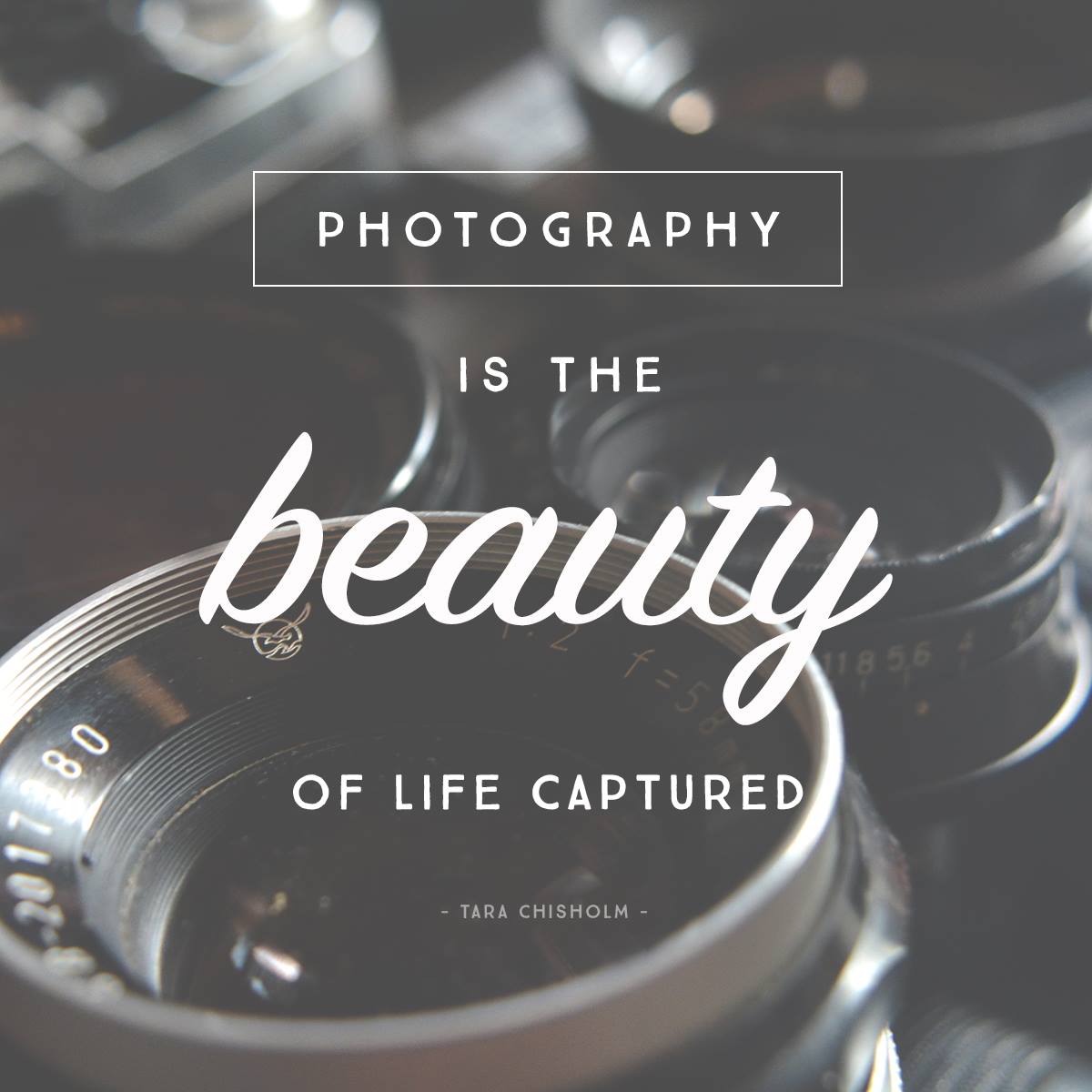 So, it is with much gratitude that I formally announce my commitment to being your full-time photographer. My journey has helped me to not only see what really matters in life, but to focus on it, and to provide you with a tangible way to hold on to it, in all of its stages, forever.
You make the memories; I will help you cherish them.
Love and smiles,
Laura