Archive
January
February
March
April
May
June
July
August
September
October
November
December
Welcome to my blog. As a portrait photographer, I find that I have a lot to capture, a lot to share, and a lot to say. You will find some helpful tips along the way to make your portrait experience the best that it can be. Thank you for letting me share with you!
So.... You got your first digital SLR camera and you want to start taking some pictures? Yay! But, WOW! There are a lot of buttons on this thing. It is tempting to put it back in the box and reach for your trusty point-and-shoot, or better yet, your phone. Don't waste this investment. Let me introduce you to some basic information and simple steps to get you started. Once you understand how to make a few adjustments to get the images you want, you will be hooked!
Let's talk buttons. Not only do you have buttons and dials, but you have banks of menus and menus to further customize your buttons and dials. It is enough to make your head spin. Since camera bodies differ by manufacturer and model (I shoot the Nikon D500), I won't get into specifics about where to find these settings on your camera, but I will encourage you to read your manual and experiment. However, much of what is in your manual will make more sense after you have had some experience using your camera.

STEP 1 - Battery and Memory Card
A wise first step is to be sure that you have the appropriate charged battery and memory card inserted properly. Be sure that your camera is OFF before changing batteries or memory cards. When it comes to memory cards, it is worth the investment to buy good quality. Personally, I prefer the SanDisk Extreme PRO SDHC card. I have been most happy with 32 GB cards because they can hold an entire session of images even when shooting in RAW. However, on a wedding shoot, I like to have several cards so that I can have one card for each segment of the day. (This is just personal preference.) Once your memory card is inserted, find the menu option to format the memory card. You may need to reference your manual for formatting memory cards. I like to re-format my memory cards between sessions to reduce the risk of corrupting a card and making it unreadable.
SD Memory CardsI label my memory cards so that I can dedicate certain cards for specific segments of a shoot. This is especially helpful when shooting weddings.
STEP 2 - Lens
Most entry level and some higher level DSLRs come with a lens kit of some sort. Don't fuss about your lens choice at first. Our first priority is to get you taking some pictures. Once you understand how to manipulate your camera settings to get desired results, then you can think about fine-tuning with lens selection. I'm not insinuating that using high quality and appropriate lenses play a minor role in photography. I'm simply trying to take a simple approach. If we attempt to tackle every aspect of this high-tech camera at once, we are certainly setting ourselves up for frustration.
So, if you have more than one lens already, then choose one with a lower f-stop number. This will allow you to get better acquainted with the power of the f-stop. If you can get your hands on a lens that will shoot as low as f/2.8 or f/3.5, that will be great. Be sure to attach it properly and do so with the camera OFF.
STEP 3 - Camera ON... Lens Cap OFF!
You may laugh, but I can't tell you how many times I look through my eyepiece and see black. Ha ha!
Okay, let's set up a few more parameters so that we have fewer variables to manipulate. In the next several steps, we are basically telling the camera how we want it to behave. As we gain a more clear understanding of the basics, certain situations may require us to change some of these settings. We are simply putting these in place to make our learning process easier. Many of these settings are programed in the menus or by dedicated buttons. Refer to your owners manual to gain access to these controls.
STEP 4 - Image Quality
Image quality refers to the kind of file we want the camera to create as it captures the image when we take a picture. Some file types require more memory than others. I always shoot in RAW file format, and I am suggesting that you do the same. The short explanation is that the RAW file format allows your camera to record an image with the most data about the image as possible. With all of this data, I am able to get the highest image quality level which I always desire. It also means that I am able to make more precise adjustments in the editing phase. I can explain the power of post-processing in another blog post, but rest assured, RAW files are so worth the larger file size.

STEP 5 - ISO
ISO is a scale for measuring sensitivity to light. A low ISO setting (100) is good when bright light is available. It would be like wearing sunglasses on a sunny day. A high ISO setting (800 or higher) would be needed to get low light shots or to freeze an image in motion. The downside to using high ISO settings is that the image may appear grainy (noise) which is more noticeable when enlarged.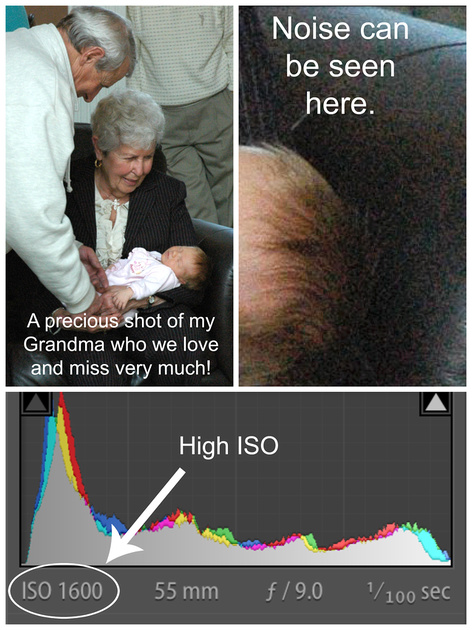 Another option is to set your camera to AUTO ISO. This may be fine to "get the shot," but if your goal is to learn how to manipulate the other two factors that affect exposure (aperture and shutter speed), then allowing your camera to choose ISO for you will introduce a third variable that will complicate how you interpret your results. My suggestion is to set your ISO at 320 for now. You can always change this later, and should be adjusting once you recognize when that is needed. One step at a time.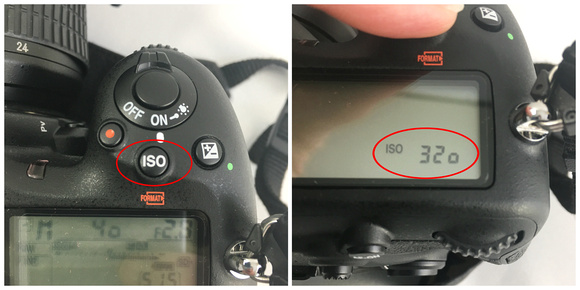 STEP 6 - Metering Mode
Setting the metering mode is a way to tell your camera how you want it to interpret the amount of light that is in the frame that you want to capture. Most cameras have a matrix or pattern metering mode that will evaluate the over-all frame. In this setting, the camera will try to choose settings that will properly expose the entire frame. It is taking an average of the whole scene. This can be good for landscapes. Another setting, center-weighted metering, tells the camera to expose for whatever is in the center part of the frame. This option is preferred if you are shooting a portrait of someone or an object that is in the center of your frame. The third option is spot or partial metering. This tells the camera to meter for a very small area right in the center of the frame, or wherever you see the single little box in the viewfinder. This allows you to capture detail in a very small specific area, especially if that area is darker or lighter than its surroundings. I prefer this spot metering method for portraits because I can purposely meter for the face/eyes which is the most important part of my portrait. My suggestion is that you choose either center-weighted or spot metering for the purpose of learning the other aspects of your camera.
STEP 7 - Focus Mode
Camera brands vary in terminology as it relates to focus modes. I suggest that you start with "Single Area AF" for the purpose of learning and experimentation. Check your owners manual to see what label is used for your camera. Continuous/Al Servo Focus is needed for tracking moving subjects, but will not be helpful for your first learning exercises.
STEP 8 - Autofocus Points
Much like setting your metering mode to be center-weighted or spot metering, we need to do the same for autofocus points. When setting autofocus points, we are telling the camera where we want it to focus. This allows us to have control over the surface plane (the distance from the camera) that will be in sharpest focus. The easiest way to choose this precisely is to use Single Point AF Area Mode. The other modes have their purpose, but Single Point AF will help us to see the power in manipulating aperture and shutter speed.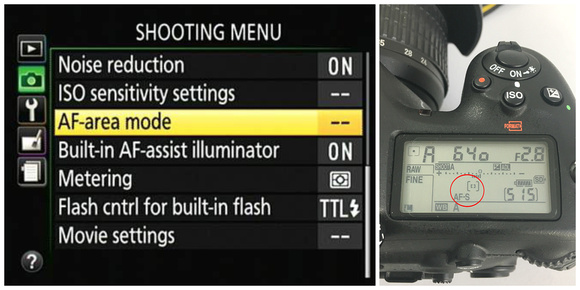 STEP 9 - White Balance
Rather than measuring and managing the amount of light, white balance is a measure of the temperature of light. It is measured in Kelvins. Warm light has more yellow tones and cool light leans toward the blue end of the scale. Getting proper white balance makes all the difference in the quality of an image. In order to reduce the number of things we need to think about, I am going to have you set the white balance on AUTO for now.
HOLY SMOKES! We haven't even taken a picture, yet. Stay with me. We are almost there.
STEP 10 - Shooting Modes
Your DSLR probably has a cute little dial on top with some letters and maybe little icon images. You might be very tempted to drop it into AUTO mode and start hitting the shutter. But, that is not why you bought a DSLR! As for all of those other little icon modes (portrait, landscape, sports, close-up/macro, night)... forget about them!

Image taken from Nikon USAhttps://www.nikonusa.com/en/nikon-products/product/dslr-cameras/1571/d3400.html
You have POWER in the ability to control your settings to make purposeful choices. The only way to harness that power is through experimentation and practice. So, let's do this!
The setting that truly allows you to be the artist of your images is Manual Mode (M) because you are making all of the decisions. Successfully using this shooting method is the goal. But, let's be honest, that is a lot to think about. We just want to start taking some pictures, already.
The two shooting modes that will be most useful to you in the beginning are Aperture Priority (A) and Shutter Priority (S). In my brain, I also think of Shutter Priority (S) as "speed." When you are using Aperture Priority, you determine the aperture and allow the camera to choose the best shutter speed based on the metered information about light that it is taking in and your ISO setting. (We already set our ISO at 320.) When you are in Shutter Priority, you choose the shutter speed and let the camera determine your best aperture based on the metered information about light and your ISO setting.
In order to know which setting would be most appropriate, we need to discuss what they are and how changing them affects an image.
I'm sure you have heard many times that photography is all about light. Making adjustments to your camera is telling it how you want it to handle that light. When you press the shutter release button, the shutter opens and allows light to pass through to the electronic sensor that records the light digitally. The sensor interprets the ambient and reflected light to create an image, much like our own eyes and brain allow us to interpret images. If the shutter opens up to a wide opening (aperture), then much light is able to pass through to create a brighter image. It is like having dilated pupils or opening the window shades as much as you can. If the shutter says open for a long period of time (shutter speed), then more light will be able to pass through to create a brighter image. So, whether you are in aperture priority mode or shutter priority mode, you are still controlling how much light is being "exposed" to your sensor, and ultimately your image. That is, you are controlling one aspect of exposure.
You just have to decide if you want direct control over aperture size or shutter speed. In order to make that decision, you need to understand the other ways aperture size and shutter speed affect the outcome of an image.
Aperture = Depth of Field
The aperture setting refers to the size of the opening that is made when the shutter opens. The size of this opening affects the amount of light that is able to pass through to the sensor, thus contributing to exposure (how light or dark the image will be). The size of the opening also affects the angles of light passing through the lens. The way these angles of light converge determines the depth of field (how many focal planes are actually in focus). A shallow depth of field (achieved with a wide open aperture) means that only surfaces at a very specific distance will appear clear and in focus. Anything closer or farther away will appear blurry. A deep depth of field (achieved with a small aperture) means that surfaces close, middle and far will be clear and in focus.
From ™2011 HowStuffWorks https://electronics.howstuffworks.com/cameras-photography/tips/aperture.htm
Aperture openings are measured in f-stops. An understanding of how aperture affects the outcome of an image will give you the power to control your outcome.

When you are in Aperture Priority Shooting Mode, you are telling the camera what aperture (f-stop) you want to use and allow the camera to choose the shutter speed that will give the optimal amount of light for proper exposure. So, if you choose a large aperture (f/2.8), your camera may have to choose a fairly fast shutter speed to prevent too much light from being exposed to the sensor and overexposing (blowing out) your image. If you choose a small aperture (f/22), your camera will need to use a much slower shutter speed so that it can bring in enough light to prevent underexposure (an image that is too dark).
Depth of field and f-stopsNotice how the number of shells that are in focus increases as the f-stop number increases.
Shutter Priority Mode (Speed)
Shutter speed is the length of time that your shutter remains open allowing light to pass through to the sensor. Shutter speeds are measured in fractions of a second. Occasionally, it is measured in whole seconds if a long exposure is desired. A fast shutter speed (1/1000th of a second) will be needed if you are trying to capture a moving object without any motion blur. If the object is stationary, a slower shutter speed (1/200th of a second) may be sufficient to get a crisp image. If you actually want some motion blur (to show movement in flowing water), then a shutter speed of 1 or 2 seconds may be desired. A tripod is required for slow shutter speeds to avoid camera shake which blurs parts of your image that you want to be clear.
Note that shutter speed on most cameras is expressed as a whole number rather than a fraction. So, if you are in Shutter Priority Mode and select 125, you are really going to have the shutter open for 1/125th of a second. Whole seconds often have a quotation mark after the number. Selecting 2" will be telling the camera to keep the shutter open for 2 whole seconds.

So, when you are in Shutter Priority Mode (S), you are telling the camera how long you want the shutter to remain open to give you the desired effect of allowing for motion blur or freezing action. If there is no action, then a more moderate speed may be preferred. Your camera's sensor will meter the light and determine what aperture will be needed to get proper exposure. If your subject is a stationary object, you may choose a shutter speed of 1/60th of a second. Your camera will use a moderate aperture to allow for the optimal amount of light, based on the conditions. If your subject is a bird in flight and you are wanting to freeze its motion, you may choose a faster shutter speed, such as 1/4000th of a second. Your camera will need to use a wide aperture to allow enough light to pass through to the sensor to capture the image.
Shutter SpeedNotice that the motion becomes less apparent as you increase the shutter speed by choosing a smaller shutter speed number. Increasing shutter speed also decreases exposure.
Choosing Your Shooting Mode
We have identified our role and the camera's role in both shooting modes: Aperture Priority Mode and Shutter Priority Mode. How do we know which one to use? Well, we need to determine which variable is most important for us to control in the given situation.
If I am taking a portrait, I obviously want my subject to be in focus. However, I want my background to be blurred. This means that I want to control the variable of depth of field. Depth of field is determined by aperture, so I will choose Aperture Priority Mode. My desired shallow depth of field is achieved with a wide aperture, so I will choose a small f-stop in Aperture Mode.
If I want to capture a landscape where I have some rocks in the foreground, trees in the middle ground and mountains in the background, I want all of it to be clear and in focus. Again, I want to control the variable of depth of field, but I want a deep depth of field this time. I will still need to choose Aperture Priority Mode, but to achieve a deep depth of field, I will need a very small aperture with a high f-stop number.
Suppose I am taking pictures at a sporting event and I want to freeze the action to get a clear picture of the athletes in motion. Freezing motion is controlled by shutter speed, so I will choose Shutter Priority Mode and select a fast shutter speed.
Finally, if I am taking pictures of a waterfall and I am hoping to show some motion in the moving water, I am wanting to control the variable of motion blur. Motion blur is controlled by shutter speed, so I will choose Shutter Priority Mode with a slow shutter speed and my camera mounted on a tripod.
Basically, you determine the priority of your desired outcome and shoot in the mode that gives you control over that variable.
Let's Practice
If you remember in the very beginning, we set up many parameters for your camera. With those predetermined, we can now focus on just two variables at a time and really get a sense of how they work together to give you proper exposure.
I suggest that you start in Aperture Priority Mode. I shot almost every portrait session in Aperture Priority for the first several years in photography before moving to Manual Mode. It is still my "go to" if I am in a situation where I have to be shooting quickly in changing conditions (wedding reception). So, set your shooting mode to A. Now, play around with the various f- stop settings while shooting the same scene and see if you can notice a difference in the depth of field. Choose a scene where you have some surfaces close to you and some farther away. As you moved up and down the f-stops, do you notice a difference in your camera's shutter speed?
Take a picture of something at the lowest f-stop (wide open aperture) that your lens will allow. Now, crank it down to the highest f-stop (narrow aperture) that your lens will allow. Can you hear the difference in the shutter speed? Take a look at the metadata in your camera for the two images. How has the shutter speed number changed? Is there a difference in the exposure of the two images?
You will eventually realize that there are some limitations. Have you tried to take a picture of something in low light and a narrow aperture (high f-stop) and wondered why your camera was simply refusing to take the shot? That is your camera saying that it doesn't have enough light available at that small of an aperture to get an exposure that you can see. It could be the case that there isn't enough light for the camera to even find something on which to focus.
You may also experience slow shutter speeds and unwanted blur from hand shake. If you don't have a tripod available, try allowing more light in by opening up your aperture (choosing a lower f-stop). With a wider aperture, your camera will be able to use a faster shutter speed to eliminate this unwanted blur. Conversely, if shooting in really bright light, you may need to narrow your aperture (increase the f-stop number) to prevent overexposure. As you gain familiarity with your camera, these are the times when you may decide to go back and adjust the ISO to get the shot you really want. We will save that for another time.
Practice a lot in Aperture Priority Mode so that you become comfortable making adjustments to get desired results. Especially in the beginning, it is helpful to bracket your shots. Use the f-stop that you feel is best for your desired outcome. Then, take the same shot one f-stop below and one f-stop above that. Don't be tempted to make judgement calls based on what you see on your LCD screen on the back of the camera. Keep all of the shots and see how they look when downloaded to your computer. Remember, you are shooting in RAW, so all of the image data will show up on the computer where you can really assess which image is the best. Pay close attention to the metadata for each image on your computer. Metadata is the information that is part of the image file that will tell you the camera settings you used to capture that image. Chances are, you may not remember the exact aperture and shutter speed for each image you shot. Look for patterns that gave you results that you like. Try to implement these same settings the next time you are in a similar situation.

Metadata as seen in camera and then in editing software on the computer. (Shown in Adobe Lightroom CC)
Repeat this same process for Shutter Priority Mode. You may want to spend several weeks in Aperture Priority Mode before you make the switch.
That Little Square in my Viewfinder
Way back in steps 6 and 8, we set the metering mode to Spot Metering and the autofocus to Single Point AF Area Mode. Those settings make that little box in the center of your viewfinder quite useful. When you partially depress your shutter, you are asking your camera to assess the situation. Because we set those parameters for metering and focus, the camera is basing its assessment on what it "sees" at the spot where the little box is aiming.
Spot Focus in ViewfinderImage from Nikon USA.
Knowing this is helpful and gives you, the photographer, more control. Suppose you are taking a portrait of a fair-skinned person who is wearing all black against a dark background. The person's face is your greatest concern. You want to get exposure that will clearly show the features of the face. If you make sure that little box is aimed at the face (I always focus on the eyes) the camera will choose an exposure appropriate for the light that it detects coming off of their face. Perfect! If, instead, I aim the box at their dark colored shirt, the camera will detect the small amount of light being reflected by the shirt and choose a high exposure. This higher exposure may be too high to maintain the features in the face and the most important part of the portrait will be overexposed and blown out.

Conversely, if you are trying to get a picture of your black dog sitting in the snow, then you will want to aim the box at the dog. The camera will detect the amount of light being reflected by the dog and choose an exposure that will allow you to see the details in your dog. If you aim the box at the snow at the dog's feet, then the camera will interpret the large amount of light being reflected by the snow and choose a lower exposure to compensate. This low exposure may cause your dog to appear as a black blob with no discernible features. Notice that the crosses photographed on the black and white backgrounds show the best overall exposure when the focal point/spot meter point is aimed at the brown cross. The brown cross is not overly light or dark.
Understanding how your camera "thinks" and using that to your advantage by aiming that little box purposefully will give you even more power as you make decisions to get the outcome you are after.
You are on your way!
Wow! That is a lot of information, and we are just getting started. Please note that I do not claim to be an expert! I simply remember the intimidation I felt getting started. I remember feeling overwhelmed by all of the buttons and dials and menus. I just wanted to take pretty pictures! I knew that I had to break it down and tackle one aspect at a time. In the beginning, I didn't understand why things worked the way they did. I just knew that if I turned the dial, I could make it better. Understanding why turning the dial made it better reduced a lot of frustration.
I hope that sharing my suggested approach for beginners can be helpful to someone out there. If your fingers are itching to touch that DSLR and to start your journey into the world of digital photography, get that DSLR out of the box and let's start having some fun!
You make the memories; I will help you cherish them.
Love and Smiles,
Laura
*Please note that the information in your camera's owner's manual will always supersede any advice that I have given here.
**A huge shout out to PicMonkey Photo Editor and Graphic Design Maker for helping me to create the images used in this blog post!
---
Once upon a time, I found my aspirations, inspirations, and delight in nature photography. My research led to educated purchases for the pursuit of amazing nature shots. I took classes and workshops to sharpen my skills in landscape and macro photography. I subscribed to Outdoor Photographer and planned family vacations around the availability of scenic locations.
I found inspiration in all things natural. Trees and flowers were among my favorite subjects.
Anytime I could find some critters willing to cooperate, I was ecstatic!
Water was always my ultimate inspiration.
My practice in nature photography taught me about high dynamic range and the importance of maintaining detail in all parts of an image. I learned about balance and composition, and developed a keen eye for texture. The most valuable training came with an understanding of light. Recognizing the intensity, angles, temperature and direction of light are probably the most important tools for any photographer. All of this training and practice helped to mold me into the portrait photographer that I am, today.
So, how does a background in nature photography affect the style of a portrait photographer? Let's take a look.
First of all, I am keenly aware of all aspects of the environment. Light is always the first criteria that I evaluate to determine if a particular spot will help me to create a fabulous portrait. But, I am also paying attention to colors, textures, and lines to create a portrait composition that is both visually interesting and complementary to my subject. When I saw this beautiful blanket of leaves, I knew that Marisa would look absolutely stunning here with her dark green sweater and gorgeous cascading hair. Just look at how her blue eyes pop with this contrast of the orange, which is blue's complementary color.
The series of portraits that you see above are a result of the same kind of assessment. I was literally gasping as I was taking these shots of Natalie. The deep gold with flecks of green in the reeds behind her just made her skin glow and brought out the lovely rich variation of highlights in her hair. My exact words at the time may have been, "Holy crap, this is gorgeous!"
My inspiration for Victoria's environment resulted in a much softer series of portraits. The refined look of her lace dress and pearls just looked stunning against a backdrop of soft greens. The purple and pink hues of the hydrangea made her complexion look even more porcelain-like and seemed to soften the eyes. You just can't get this inspiration in a studio. In the first image, I used desaturation to create a nostalgic feel. I am in love with this dreamy look.
When choosing the perfect setting for this series of portraits of Allyson, I was again looking for that dreamy soft light, but with richer tones to go with her glowing complexion and warm hair tones. The blacks and greys in her scarf sent me looking for earth tones, but I love how the black iron railing tied it all together. The soft texture of the pine needles worked well with the geometric designs in the scarf. Just look at her eyes. This was another moment that took my breath away.
Early morning light has a very special quality, and that was my inspiration for these portraits of Victoria. First of all, we were at the beach. Hello... I love the beach and find myself awestruck by every view. So, using the ocean as a backdrop with this warm glow of the sunrise made me giddy. The color palette of blues and greys worked to show off her tan and blue eyes. The white sundress and straw hat made it feel fresh and joyful, which is exactly how I see Victoria. I can almost feel the warm breeze and smell the salty air. More importantly, this setting, while gorgeous on its own, brings the attention to Victoria.
Notice the different quality in the light of Sydney's portraits above. This sunset produced a cool, soft light that created a sense of serenity. Sydney has an inner glow that was complemented by the glow in her surroundings. When I saw that amazing sky reflected in the lake, I knew it would help to convey the genuine beauty that is Sydney. I remember actually feeling my breathing slow down as I took these images. I didn't want the moment to end.
For the portraits of Matt above, we obviously felt that the wooded area was perfect for the hunting theme we had going on. I was loving the light in the first image and was thrilled that I could show some variation in the foliage while still featuring the beauty in his gun. My focus was on his eyes that show such intensity and concentration which is needed for a hunter. I thought we were ready to leave that spot until I turned around and saw how pretty the sky looked with the setting sun. Letting that light spill over his shoulder almost points the way to where Matt is focusing with is bow. It is clear that Matt is in his element here and it was so fun for me to experience this with him.
Haley's portraits above are both examples of backlighting, but, WOW, are they ever different! The first portrait shows a lovely soft backlighting that makes her glow. The contrasting rough texture of the tree makes her beautiful face even softer and those eyes are just amazing. There was a shadow on the left side in the grass that almost served as natural frame to direct the focus to Haley. The second portrait of Haley uses the contrast in the sky to create a dramatic effect. The intensity of her expression and piercing eyes make her look just as fierce as she really is on the track. I know that I gave a gasp as I took each of these portraits but for very different reasons. Haley is a gorgeous, dynamic young lady, and I was so happy that I could show that.
As I continue to talk about light, take a look at these portraits of Jimmy. Oh my goodness! I don't recall if I said that exactly when I was looking through my camera (I may have said something a little stronger), but I can remember how I felt in that moment. We were near the end of the session and had found an old shed on this farm property that had a really cool hearth and fireplace. I loved the aged brickwork and thought it had great texture with some wonderful color contrast for Jimmy's blue shirt. Well, that particular setting didn't work so well because the light was too intense. I remember feeling disappointed that I couldn't make that spot work the way I wanted to, and turned to my left. My eyes fell upon this rustic grey door and the fabulous directional light that was spilling across it. There wasn't anything to sit on right there, but I knew exactly where I wanted to place Jimmy's face for this portrait. Jimmy is one of the most kind-hearted and respectful young men I have ever met. In an attempt to appease my search, he quickly found something and dragged it into place and sat down. He must have thought I was crazy because I remember almost squealing with excitement as I got him in place and looked through the eyepiece of my camera. The strength of his features and deep set of his eyes became more evident in this fabulous light. I contained my excitement the best I could until I got home and saw on my computer that this series of portraits really was all I hoped it would be.
To share with you my goals for the series of portraits of Lexi that you see above, I need to remind you that my roots as a nature photographer are strong. When Lexi explained to me her connection with this particular location on her grandparents' farm, I could totally appreciate that. I made it my mission to provide her with some really special portraits to help her remember this place and how it makes her feel. The cornfield, the fence line, the trees beyond that fence line, the lane she drives her truck through... all have special meaning. Her easy smile is a reflection of the joy that she feels here. Could she look any more relaxed and at peace here? This is just so Lexi. It makes my heart happy to see her in this place.
Here is a family with a connection to the land. This is a beautiful farm, but it is more than that to the Pusateri family. This is home. And, for some reason, when your home is shared with animals, it is even more precious. I love showing the relationships among family members, but when that can be enhanced by a setting where their love spills over to include their surroundings, it really becomes special.
This is the Stertzbach family and they have become quite near and dear to my heart. They are incredibly rooted in nature and keep themselves grounded with their cattle and dogs. This particular setting felt perfect for so many reasons. For one, it is located on the farm where they work so hard to raise their cattle. The pond in the background with the soft light made it feel serene. These fabulous trees seem to frame this family and direct attention to them. They also provided such soft shade and a sprinkling of leaves on the ground for interest. These are genuine smiles here. It all just feels so right. That is how it is working with them. Pure joy.
I could truly go on forever, but I will leave you with one last example. The Westfall (and Skolmutch) family is a special one for so many reason. Having been such close friends with them was probably a good thing because I may have been jumping up and down and squealing after I took some of these portraits. (If you haven't noticed, I get really excited about what I do.) I adore these portraits because I adore the people in them and the connections they have with each other. But just look at these settings! I feel like they are just framed by nature and these spots were just waiting for the family to nestle into them. I am smiling from ear to ear just writing about this because the emotions are still there.
So, yes, I may have started out as a nature photographer, but I have truly found my passion in portrait photography. I feel very connected with nature and I use nature to enhance the people in my portraits. It is so much more than just finding a pretty spot for a picture. It is using that spot to portray my subject in the most authentic way possible. The result is always a crowd pleaser. More importantly, I can create portraits that are beautiful because of the underlying emotion that tugs at the heart.
You make the memories; I will help you cherish them.
Love and Smiles,
Laura
---
When making the decision to invest in professional portraits, it can be difficult to compare photographers and to fully understand what you can expect once your decision is made. There are many different photographers and each has his or her own style with regard to the portraits they create and how they manage their relationships with clients throughout the process. This is a good thing, because there is surely one to fit your needs and preferences. My goal in this blog post is to explain the Laura Esposito Photography experience. You will find that the experience I create for you is based on my values and beliefs as an artist, a business woman, a fellow consumer, and a busy wife and mother.
Every portrait session is unique because every person or family is unique, but there are some specific steps in the process that remain the same. One common goal is that we set out to create some beautiful portraits for you to treasure and to have fun in the process. I like to "keep it simple and make it fun." Let's start at the beginning of the process to see how we make it happen.
Scheduling your portrait session
So, you have decided to entrust me with the privilege of creating treasured portraits for you and/or your family. Yay! Thank you! Let's set this up and make it happen. That means that we need to connect in order to communicate. Depending on your schedule, it can be a challenge. This is why I am happy to make that connection in whatever manner is easiest for you. A phone call (330) 704-6473 is great because we can have a conversation with much information shared at that moment in time. Unless I am engaged in a portrait session or in church, I will most likely be able to take your call. If you have never met me, you may just want to hear my voice to get a sense of who I am over the phone. However, if we have already met, you may prefer the flexibility of sending a message. I welcome messages from email (lespo@me.com), texting (330) 704-6473, and Facebook messaging (@lespophoto). I try to be prompt in my replies because I understand that you are ready to make some decisions and waiting for replies can be frustrating.
During our conversation, I will want to learn your goals for the portrait session so that we can best choose a time and place. I will want to know the subject(s) in the portraits, the intended purpose for the portraits, and any special requests or vision that you have in mind. Almost all of my portrait sessions take place outdoors, so we base our starting time on the sunset time. If you are scheduling a typical portrait session, we will make our start time two hours before sunset. This could be at 3:30 in the winter months or 7:00 in the summer. My Senior Portrait Sessions are usually the most inclusive and we often use all of the daylight we can get. A typical family portrait session is completed in an hour or less. It is important to remember that my portrait sessions are completely customizable. A family portrait session with extended family that includes portraits of various groupings will probably take longer than an hour. A High School Senior may have multiple settings that we need to use in order to fully tell his/her story. We can make that happen. If we are scheduling during busy months like September or October, we may want to get two dates on the calendar so that we have a back-up in case of rainy weather.
Once we have settled on a time and place, I will send you a portrait contract with the agreed upon information. I will ask that you review the specifics so that we are both clear on the needs and expectations from both of us. For a typical portrait session (weddings are the exception) you will bring the signed contract and payment to the portrait session. I do not require a deposit to hold your date. Thankfully, I have been blessed with wonderful clients who have never given me a reason to require a deposit.
Preparing for the portrait session
Once we have your portrait session scheduled, you will want to prepare your people, your wardrobe, and your props. I suggest that you take a look at some of the other blog posts that I have shared for helpful information. There is an entire series of blog posts dedicated to High School Seniors and one specifically for the Family Portrait Session that would be most helpful. I also suggest that you browse some of the other galleries on my website <lespo.zenfolio.com> to gain some inspiration. It is helpful if you come to the portrait session with some specific portrait ideas in mind that you really like.
This is the time when all sorts of ideas and questions will come to mind. I wholeheartedly invite you to send those questions my way. So many of my clients apologize for messaging me with questions at this point. There are no apologies needed! I am happy to help you through this thought process. Remember our goal? We want to create beautiful portraits for you to treasure and to have fun in the process. I understand that I orchestrate portrait sessions on a daily basis. Most likely, you, my client, may have a portrait session once a year or once every ten years. You will have questions and I have answers that I am happy to share. You are investing time and money in this portrait session, so we both want to make it special.
Enjoying the portrait session
The day has arrived! Yay! Here we go! Notice the title of this section: "enjoying" your portrait session. The first step is to maintain communication so that we are both clear about where and when we are meeting. If you have never met me in person, I will be easy to identify. I will be the little lady running around with a big camera and a big smile. I will want to meet everyone involved and again review our goals and any special requests that we hope to achieve. I will want to take a look at any additional outfits that will be incorporated and discuss a game plan for how we will use our time together based on the conditions of the day. This is also the time when we will take care of the signed contract and payment.
With that out of the way, let's have some fun! I will place you or your group in various settings and arrangements. Once I get you in place, prepare to see me all over the place. I will keep you in your spot, but I will be buzzing around to different angles and elevations and distances to get as much variety out of that one location as I can. This strategy adds to our efficiency and gives you more variety. I will ask you to move your head slightly this way or that. By the end, I don't even have to say anything. I love it when I barely start to move my hand and my intuitive subject does exactly what I had in mind. We become pretty connected as we work together. I will place hair, clothing, and jewelry if needed, but I always welcome other eyes (Mom) to help with that job.
During the shooting process, I must warn you that I can be rather expressive. When I look through that viewfinder and see the portrait we are creating, I become so excited and overwhelmed that I may gasp or even give the occasional "OH MY!" When I check my work on the LCD screen on the back of the camera, I am checking to see that I have used the settings that give me the desired effect. I am also checking for sharpness and to be sure that I am happy with the lighting at that location and angle. This is another time when I just can't hold back. That beautiful portrait staring back at me is energizing and sometimes emotional. I like to share some of those views with you so that you can see how amazing you look. It also helps for you to give me some feedback at this point so that I can adjust accordingly.
Viewing your portrait gallery
After your fabulous session, you go home with nothing but expectation and I go home with your beautiful portraits in my camera. That doesn't sound fair. I totally understand your excitement and anticipation. This is why I do my best to post a "First Image Edit" on Facebook so that you can see at least one of your portraits soon after our session. I take great care in editing your portraits. I want them to be perfect for you. I edit your portraits in the order in which they were captured. The portraits that I complete in one edit session will be uploaded into your gallery on my website. You will see your gallery grow over the next couple of days. I will share a few of my favorites on Facebook and Instagram as I go, so be sure to "like" my Facebook page (@lespohoto) and to follow me on Instagram (lespophoto).
Once all of your portraits have been edited and placed in your gallery, you will see some of them show up again in black and white versions or with some color adjustments. This is where I use my artistic judgement to give you some variety and create some works of art. When you see these additions to your gallery, you will know that your gallery is complete.
Ordering portraits
Many of my clients will agree that ordering the portraits is the hard part. The difficulty is not in placing the order, but rather in making the decisions about which portraits to order. You will probably want all of them. Many of my clients do order at least a small print of every portrait. The print prices are reasonable, so this really is an option.
One of the benefits of ordering from an online gallery is that multiple households can place orders independently of each other. You simply choose the portrait image that you would like to order and click on it. That portrait will be visible by itself on the screen. You will also see a list of the most common items to purchase show up on the right side of the screen. You will see the most popular print sizes listed as well as a few wall art options. You can select to add any of these to your cart. If you want to purchase an item that you do not see listed, you may click "VISIT SHOP" and you will be taken to a menu of product types. From here, you can look around and find other print sizes, types and sizes of wall art, and even gift options like mugs and phone cases.
Once you have placed all of the items in your cart that you wish to purchase at that time, you can check out and pay with credit card. Your order will be sent to me for approval. I will look for things like cropping of images and wall art choices to be sure that your order will be fulfilled at its best. If I see something in your order that I think you may want to adjust, I will contact you so that we can discuss exactly what you desire and adjust if needed. Again, I want you to be completely thrilled with your portraits. This is why I am happy to answer any questions you have along the way. The products will be shipped directly to you.
Depending on your purpose for these portraits, you may want some additional consultation. If you are planning a grouping of wall art on a specific wall of your home, I am happy to come to your home and discuss your options. I have samples of the various wall art products so that you can get your hands on them and see the quality of each piece. We may want to do some measuring and play around with shapes. We can talk about colors and balance. We can even place the order together so that you feel confident about what is coming in the mail.
If you have any desired use for these portraits that you do not see on my website shop, please let me know and we can find a way to fill that need. I offer other services such a photo book design and card design. Just share your ideas and we can explore options.
Remember that you can place multiple orders. There is no pressure to get everything in your first order. Your gallery will remain available to you for several years.
Maintaining our relationship
Capturing your portraits and providing you with these treasures is an intimate process and results in a relationship that I value. I will want to hear from you when you get your order to be sure that you are happy with your products. Your family and your needs will grow, and I would love to make that journey with you. Being your photographer is an amazing privilege.
You make the memories; I will help you cherish them.
Love and Smiles,
Laura
---
"The busy season!" Oh my! Many people find themselves in a job or other role where they can define a busy season. For accountants, March and April are typically a very busy season. For retailers, delivery services, and many others, the Christmas season is their busy season. For most photographers, especially in Ohio, September and October define the busy season. Needless to say, I expected to remain busy though those months, and I anticipated some down time to follow. I actually came up with a list of things to pursue and accomplish in my "off" season so that I would still be "busy," and more importantly, "productive."
Socket Wrench ArtFeeling a little artistic.
"Busy"
This is such a funny word when you think about it. First of all, shouldn't it be spelled "bizzy?" As you can see, the phonics lessons from the Sisters of the Humility of Mary are still ingrained in my brain from elementary school. The word "busy" is defined as having a great deal to do. And, notice that it is the base word in "business," which implies that having a business requires you to be busy. But what connotations come with the word "busy?" It really depends on the context in which it is used.
Rich - Fellow PhotographerPracticing with my new lens and lighting.
I am certainly guilty of using the word to convey both negative and positive messages. I can still hear my voice in earlier years whining something to the tune of, "I am just so busy that I don't know what to do." I am not proud of those rants, but they were part of my reality. At the time, being overly busy felt like an unavoidable part of life. Striving to be the attentive wife and mother while giving my students the best science education and experience that I knew they deserved required me to carry way more on my plate than was humanly possible. I was setting myself up for failure and making my version of "busy" a very negative, exhausting, and counterproductive part of my life.
Today, I feel the need to still use the word "busy," but in a positive and reaffirming way. When people ask me how my photography business is going, I have found myself smiling and saying with much satisfaction that, "It is great! I have been really busy!" I find that so interesting that I feel the need to share that I am busy. Why? Why do I equate being busy with the success of my photography business?
Getting more clients and more portrait sessions is an indicator of the success of my business and those things certainly keep me busy. Learning to properly account for my income, operating expenses, cost of sales, taxes, etc. keep me busy. Continually defining my brand and delivering consistent messaging about my brand keep me busy. Preparing for custom personalized sessions, being responsive to clients in the most kind and thorough manner, sharing my work in an exciting way, maintaining my equipment, refining my technique... all of these things fill my days, weeks and months. So, "busy" seems like an appropriate descriptor. Victoria and LucyPracticing with my new lens and lighting.
Nonetheless, I feel the need to change my response to something that is more appropriate for how I feel about the current state of my business. I think that we, as a society, need to stop the glorification of "being busy." It seems that there is the perception that someone must be busy in order to have worth or to be successful. "Unsuccessful people are busy being busy. Successful people are busy being productive." -Kevin Abdulrahman What a profound statement. So, maybe I need to adopt the adjective "productive" to really describe my photography business. Think about the shift in perception that comes with describing my business as "productive" rather than just "busy." It implies that my hard work is getting results and that is my goal.
So, how do I make this shift from being "busy" to being "productive?" I make sure that I am "busy with a purpose." I invest myself in the activities that I believe will help to improve my business and to better serve my clients. There are a million things that I would love to be working on right now, but I know my limitations. I know that doing a few things well will give my clients a better experience than doing lots of things just so so. "It's not so much how busy you are, but WHY you are busy. The bee is praised. The mosquito is swatted." - Mary O'Connor I want to be the bee. I want to produce something that will thrill my clients and empower my continued growth. In this way, I can ensure that the things that keep me busy have both meaning and purpose.
Griffan JosephUsing my studio space.
This recent shift from an emphasis on being "busy" to an emphasis on being "productive" has revealed some much-appreciated benefits. It really hit me one day after a trip to the grocery store. I must first explain that growing up and living in a small town means that I am related to half of the population and I have worked with the other half in one capacity or another. Well, on this particular grocery store trip, in typical fashion, I ran into several people I had not seen in a while and I did carry on some rather lengthy conversations with them. My daughters have come to expect this, but what was different this time was my attitude about the encounters. I can remember a time when I would have held the conversation out of courtesy, but inside, I would have been in knots as my stress level would rise just thinking about how much time I had lost and how I was never going to get those minutes back and that I would be up even later trying to get everything done so that the next day could happen. I think I felt my blood pressure rise just writing that sentence. That was the old "busy me." The new "productive me" came away from that very long grocery store trip full of nothing but gratitude. I felt so grateful that I could hold those conversations and be totally present and attend to what they were saying, rather than thinking about how much work waited for me. I felt gratitude that I actually have so many wonderful people around me who care to share some of their precious time talking to me. I felt gratitude that I could carry a little happy nugget from our encounter with me throughout my day. I felt gratitude that I could take some time to thank God for putting me in this place at this time and to be able to see a much bigger picture in which I have a role. Wow. What a difference.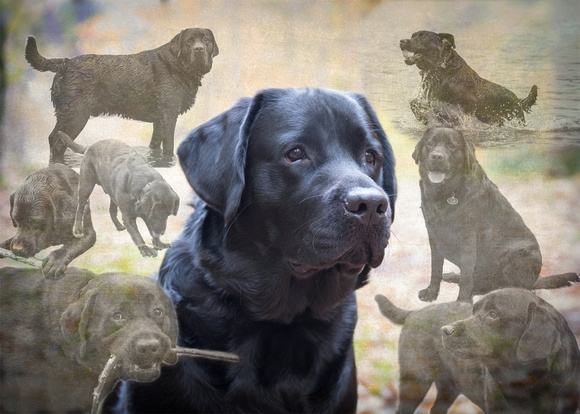 Hutch MontagePracticing my Photoshop skills to create montages.
So, I am happy to proclaim that, "My business is great! I have been really productive!" But, it is the "off" season for a photographer. How have I been productive? Oh my! I have creatively found a way to use some inside space for a studio to hold some portrait sessions. I have been working through my Business Challenge Class through PPA. I am getting totally energized by participating in the Ultimate Posing Course, and I am learning to take my portraits to the next level by working through a Photoshop course. I am participating in some wonderful networking groups and making some great new partnerships. I am practicing with a new lens and finding any excuse to shoot, shoot, shoot.
So, bring on that "busy season!" I will continue to be productive. I am so energized and excited for what Laura Esposito Photography can offer in 2018!
You make the memories; I will help you cherish them.
Love and Smiles,
Laura
---
This was a huge year for Laura Esposito Photography as it marked the beginning of my full-time dedication to running my business. In a previous blog, I discuss the circumstances that led to this decision that put myself on a path to the most challenging and rewarding career endeavor. I started by enrolling myself in a year-long business class through Professional Photographers of America. I invested in a new camera with higher resolution and better performance in a variety of light conditions. I upgraded my accessories and computer software, and even created a studio space. I spent time in various training workshops and courses to improve my skills, especially in wedding photography and photoshop. I reworked my website so that I could offer the most desirable products, and built a supply of samples to help my clients make more informed decisions when making a purchase.
Despite all of my efforts, it was my fabulous clients who made 2017 a truly great year for Laura Esposito Photography. Reflecting on all of the people who entrusted me with preserving their memories has been humbling. Below is a tribute to all of my special clients. Come with me as we take a walk down memory lane.
My roots and my specialty are high school senior portraits, so I will start by showcasing these amazing young people. They are as unique as their portraits and I was energized by every single session.
Family portraits are so special to me, because FAMILY is so special to me. Any opportunity that allows me to preserve special memories within a family is such a blessing. I worked with some very dear families this year and their portraits are a reflection of that.
Children's portraits are equally cherished as they grow up and change so quickly. With the addition of my studio this year, I was able to capture some specialty portraits despite the weather. This was rather appreciated as many families wanted something specifically for their Christmas cards. I also expanded my services and designed cards for clients this year. That was a fun way to use my creativity and help my clients save some precious time around the holidays.
After my various equipment upgrades and investing in my education and training, I found myself excited to tackle wedding photography. This year, I was honored to work with two wonderful couples as they tied the knot in 2017. My most sincere best wishes go to Kaitlyn and Aaron and Samantha and Steve as they start their lives as married couples. I have no doubts that they will continue to grow together. I'm hoping to get the call one day for a baby or family portrait session!
One of the funnest things about my job is that I never know what kind of request might be made. Sometimes, events require a professional photographer to properly document the occasion. This year, I was thrilled to take portraits for Louisville and Marlington's Proms, for Saint Joseph's First Communion, for Louisville's Girls Tennis Senior Night, and for the Palette2Palate charity event for the Stark County Hunger Task Force.
A new venture for me has been to work in the corporate realm. Product photography certainly broadened my horizons and I have made some exciting new connections. Plumbers and Pipefitters Local #94 enlisted my services for some great projects, including a four-generation portrait featuring four generations of Cramer men who were/are Local #94 Members. My photoshop skills came in handy for that one. I put my studio to good use to generate the images for the Ultimate Bucket Caddy. My husband will no longer wash a car without one. I was thrilled when school board candidates solicited my services for publicity portraits. The most rewarding job has been working with the wonderful crew at the Whole Latte Love Cafe. A smile remained on my face for a very long time after that portrait session. I owe much credit and thanks to a dear friend, Diane Adams, who is a graphic designer and helped to make many of these connections for me.
As I look to 2018, I am excited about some new directions where I would like to expand. I dabbled enough to know that I like these new ventures, and I am making plans to take some additional classes in order to sharpen my skills. I have always had a pet, and I am not ashamed to admit that my pets are always family. Growing up on a farm while showing horses makes me sensitive to the bond that one can have with their fur babies. Our family dog is truly my baby and I spoil her like crazy. Needless to say, pet photography seems like a natural fit.
This fall, I tried something new and had a BFF Session for my daughter and her very good friend. I understand that high school seniors have such great friendships, and that they know how limited their time together might be. Often, best friends part ways after high school as they go off to different colleges, enlist in the military, or simply find different paths in life. The BFF Portrait Session is an opportunity for these friends to create some fun professional portraits to treasure when their friend is no longer by their side every day. I am hopeful that other high school seniors will recognize the value in such a session and ask me to help them to preserve this moment in time together.
Family Lifestyle Portraits are gaining in popularity, and it may seem quite simple to just snap some pictures, a professional lifestyle portrait is much more complicated. That candid, "in-the-moment" look actually requires preparation and skill. I intend to work on this genre so that I can add it to my family portrait repertoire and really give my clients the variety they desire.
Another new skill that I have been practicing and hope to expand is the creation of a collage/montage. This is a reflection of one of the classes that I enjoyed this past year. I have taken the concept and made it my own. The process is extremely time-consuming, but I intend to make the collage/montage an optional add-on for any portrait session. One of my very special clients ordered their montage in a large metal wall art and it looks absolutely amazing.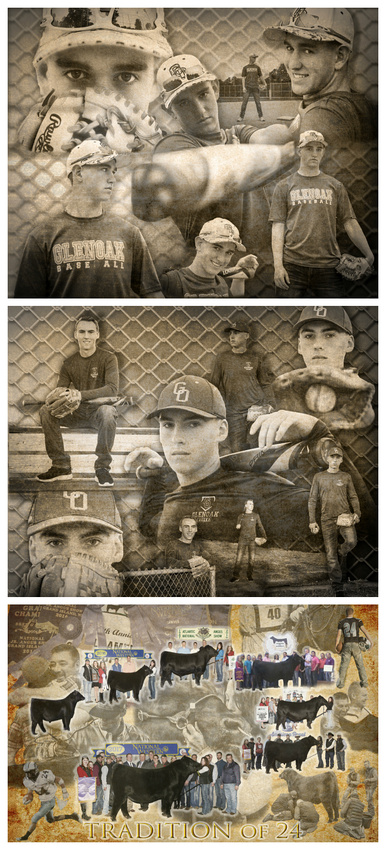 Collage/Montage
This reflection on 2017 has reminded me how fortunate I am to be able to do what I truly love. I have found my passion. Being your portrait photographer has given me meaning and purpose. To all of my past, present and future clients, I am eternally grateful for your trust and for giving me the opportunity to create beautiful and priceless portraits for you. I am ready to leap into 2018 with continued excitement and dedication to being the best portrait photographer that I can be. But, don't worry; I will never forget that it is really all about you. I'm just here to document all that is special.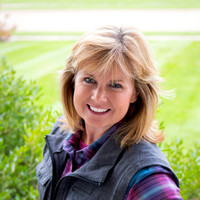 Laura Esposito, Photographer
You make the memories; I will help you cherish them.
Love and Smiles,
Laura
---
Being a wedding photographer is so much more than showing up on the day of the wedding and taking pictures. There is much preparation that takes place in order to be sure that you are properly documenting the events and capturing the desired portraits on their special day. Every couple is unique and their needs will be unique. There are no "do-overs," so you either get it the first time or you don't. You can't ask the Father of the Bride to make that adoring expression again. You can't ask the Bride and Groom to go back up there and do the first kiss over again. You can't put the cake back together and cut it again. You must be prepared to be at the right location with your equipment functioning and in the proper settings with needed supplies at your fingertips. This is why having a second shooter and assistant to support my efforts is so crucial. Preparing them with a detailed agenda for the day makes them better equipped to fill their roles. With specific times and lists of the shots I need to capture at each step in that agenda, they can help to make it all happen.

My Assistant - Chris
Meet Chris. He was my assistant for Samantha and Steve's beautiful wedding. He was integral to the process as he helped to carry equipment from one location to the next. He had a thorough understanding of the layout of my camera bags so that he could quickly produce flashes, fresh batteries and memory cards for either camera. He knew my labeling system and didn't require my specific directions to meet our needs. His height was quite beneficial as he was also the one holding the reflector at just the right angle to take advantage of the best light.

My Second Shooter - Victoria
This is my second shooter, Victoria, who captured the shots that I could not and really helped to tell the whole story from Samantha and Steve's special day. Her preparation included a coordination of the kinds of shots I wanted her to capture, a choreography of where we each needed to be during the ceremony, and collaboration on the camera settings that I wanted her to use for each application. It certainly helps that Victoria has an artistic eye and her attention to detail is needed to properly assist me in setting up my bridal party for portraits. Justifying the value of a second shooter, such as Victoria, is best achieved by showcasing some of the results.
Candid created from a different angle
One of the goals for a second shooter can be to capture different angles of the portraits. While I am setting them up and getting the traditional portrait with everyone looking at the camera, she can be getting that same shot from a different angle. The results create a beautiful portrait with a more candid, "in-the-moment" feel.
Smaller groupings within the larger one
Another goal for my second shooter is to capture smaller groupings of individuals within the larger portrait that I am creating from my angle. These are priceless and help to offer some great variety without taking any extra time. Time is a limited commodity on any wedding day, so I am extremely thankful that she can produce these additional portraits.
There is so much happening at once throughout the day of a wedding. The passing expressions or gestures can really help to tell the whole story, but only if they can be captured. Again, my second shooter is often able to be sneaky and capture those things going on behind my back. As for Samantha and Steve, they just seemed to be exuding joy, and I love that Victoria was able to catch some of their genuine laughter. She also captured a very subtle gesture of Steve making sure his new wedding band was properly in place. I think that is such a sweet little treasure.

Sometimes, you just have to laugh!
One of the times when my second shooter is most appreciated is when our entire group breaks out in laughter. That happened on several occasions with Samantha and Steve because they are such a fun couple. Above, you can see an occasion when we all lost our composure, but fortunately, Victoria was able to document the scene. It may not be the perfect "portrait," but it certainly is priceless.

Staying inconspicuous as the photographer
Another purpose that the images from my second shooter serves is for me to be able to catch glimpses of myself in the background. I am not in any way looking to provide my couple with portraits that include me. I am, however, looking to see how conspicuous I am while doing my job. Getting the perfect shot during a wedding ceremony and reception requires some finesse. I need to make sure that I am where the action is, yet do so in a way that I am not noticed. During the rehearsal, I like to have a conversation with the celebrant to discuss his or her comfort level with my movement during the ceremony, and to learn where I may and may not go. After Samantha and Steve's ceremony, I asked their celebrant, Pastor Jeff, if my work was in any way distracting. He said he didn't even realize I was there. I take that as a great compliment.
Finally, my second shooter shares my goal of getting the shots that really show the connections and emotions of the day. Each couple will bring their own unique flavor to their wedding day, and effectively conveying that through portraits is our ultimate goal. Along the way, we both find ourselves fixing dresses, inserting veils, pinning boutonnieres, fetching tissues and transporting flowers. We also can't help but share in the laughter and tears.
As a wedding photographer, I develop an intimate connection with my couple and their families. In order to tell their story, I have to become part of it. Providing couples and families with portraits from their wedding day is such a privilege and a responsibility that I take very seriously. Knowing that they will be sharing these portraits for many years to come makes me so happy.
You make the memories; I will help you cherish them.
Love and Smiles,
Laura
---

Lexi | Class of 2018
They say that the only constant in life is change. We can fight it or embrace it, but change is inevitable. As a photographer, I am very thankful for the changes in technology, technique and trend. My gratitude is not because these changes make it easier, but because they help me to tell your story. You are special and unique. Your story is special and unique. Your portraits should be special and unique.
Nathan H | Class of 2018
When I think about you, my client, looking at your portraits, my goal is not for you to simply see them. I want you to feel them. That means that I intend for your portraits to have emotion and a connection to who you are. That mindset drives my approach to everything connected with your session. It determines the location, the lighting, the posing, the angles, the depth of field, the white balance, the saturation, the contrast, the cropping and presentation. All of these elements come together in a deliberate way to make that portrait a true reflection of you.
Kat | Class of 2018
So, how do I get to know you? There are some very subtle observations that help me to uncover what makes you special. My twenty-five years in education provided me with the opportunity to work with thousands of different people, and I have learned to pick up on the nuances of facial expressions, body language, and interpersonal interactions. I gather information from your choice of outfits and props. My purposeful small talk helps me to learn more about you. But, I have another "secret weapon" that tells me so much more...your eyes.

Matt | Class of 2018
They say that "the eyes are the windows to the soul." I believe that wholeheartedly. When I look through the viewfinder of my camera and stare into your eyes, I feel like I am seeing the real you. I am seeing the quiet insecurities and the bold confidence. I can see reserved emotions and loud exuberance. I feel like I am the only one who gets to see the amazing show happening within that viewfinder. That is, until I have the opportunity to share it in the form of your portraits.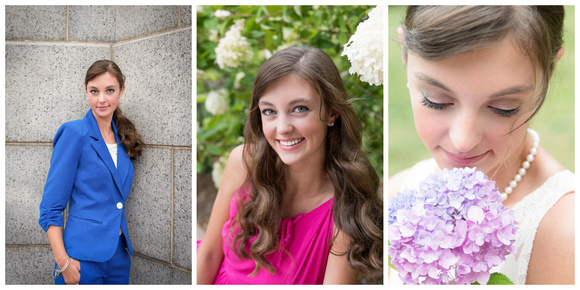 Victoria | Class of 2018
A fortunate truth is that everyone is multidimensional. You have many sides, and the fun comes when we can show those various facets through your portraits. This provides us with great variety by the time we complete your collection. These portraits will evoke different emotions which means that I will employ some different techniques to make that happen.
The quality and style of our old family portraits and my senior portraits certainly date me. The stiff poses that look just like every other portrait with the same boring background as every other portrait were the norm. I could never be that photographer. I don't want to simply provide you with a service, I want to create an experience and a gift by providing portraits that may, one day, tug at your heart.
You make the memories; I will help you cherish them.
Love and Smiles,
Laura
---

Ahhh..... The family portrait session. You see beautiful family portraits posted on Facebook and Instagram that depict the perfect family with everyone dressed perfectly with perfect smiles and perfect hair and looking so perfectly happy. But, in your mind, all you can imagine is something like what you see in the images above. The thought of getting everyone ready and where they need to be at the right time, and keeping everyone happy and trying to look fantastic yourself is just an exhausting concept. Well, it doesn't have to be. The first step to a successful family portrait session is to embrace the fact that your family is perfect just they way they are. They are perfect because of the love that binds them. It really is as simple as that. They are yours. You love them. You cherish these years that are passing too quickly. You want to capture that and treasure it, forever.
As a fan of Modern Family, I am reminded of a great episode that poked fun at the stress of preparing for a family portrait session. In typical fashion, Claire held on to the unrealistic expectation for a perfect family portrait. She was setting them all up for failure because her concept of perfection does not exist in the human world. Had things gone according to her plan, the resulting portrait would have been stiff and fake. As a result of one hilarious mishap after another, the portrait that you see above is full of emotion and reveals the genuine love that binds them. I am not advocating that your family have a mud fight right before our portrait session, but rather, remember that all of Claire's fussing and nagging was in vain.
So, what might be a better approach? Well, let's first identify the goals of your family portrait session. What do you intend to do with these precious portraits that we are creating? Would you like a piece of wall art to display on the mantle? Are you thinking about a series of three or four square canvases to hang in a series in the hallway or foyer? Do you just want something to frame on your desk and use for the Christmas card this year? Knowing our desired purpose will help us to make smarter decisions along the way.
Okay. We have our goal. How do we get there? Planning and communication are the keys. Since we have our "why" (the goal), we need to carefully establish a plan for the "who, when, where, and how," and then effectively communicate these plans to everyone who is involved in the portrait session.
Who? You might be thinking that the "who" is obvious, our family. Defining your family can require some thought. If there are step siblings, think about how you want everyone included. Would you like for any grandparents to be included? If older children have girlfriends or boyfriends, would you like for them to be in any of the portraits? Are your pets an integral part of the family? Would you like any portraits of just mom and dad? It is possible that the wedding portrait is the last good portrait featuring just the parents? What other groupings should we capture at this time? If one of our goals is to create a wall collage or a series of portraits, then what combinations would you like to feature? Identifying the answers to these questions will drive our portrait session. Communicating this information to me will make our time together more efficient. Communicating this information to your family members will prevent the need for discussions in the moment and avoid hurt feelings.
When? The sunset time dictates the time of day for our portrait session, but the time of year must be considered. Maybe you are hoping for a particular season. Fall portraits are absolutely beautiful. However, if you intend to hang this on the mantle in the formal living room which is decorated in a palette of pale blues and silver, then a portrait with oranges, reds and golds may not be a good choice. If your kiddos are involved in multiple activities, think about the time of year when the schedules are less hectic. If you have kids away at college, find out when they will be home for break. Think about your work deadlines and busy seasons to avoid. Again, communicating the time of your scheduled portrait session to all involved will help to ensure that you have everyone participating. Kindly make this information known as soon as you schedule the appointment so that all can plan accordingly. Providing tactful reminders as your session is approaching would be helpful to set your mind at ease that this is really going to happen.
Where? Sometimes the where is obvious. If you live on a farm, we will want to take advantage of that beautiful setting. If you have property on a lake or belong to a country club, then you may want to utilize those pretty settings. If your family has a special place where you have built some treasured memories, then that may be your ideal location. Is your family comfortable in the outdoors immersed in nature? Is a metropolitan look a better fit? Are we looking for casual or formal portraits? Do we need a location that can offer both?
If your family includes younger kiddos, then think about how they will engage in the location. Portrait sessions in the home with toddlers can be difficult. They know their surroundings too well. You may want them to play by the pretty tree, but they remain fixated on their Little Tikes car in the driveway. Forcing a move will surely bring tears. I love documenting toddlers exploring a new setting and capturing the wonder in their eyes. Keeping things fresh and new, but maintaining a feeling of security is key to natural-looking portraits with little ones. Again, be sure to communicate the specific location with all involved so that we have everyone together in the same place.
How? My philosophy is to keep it simple, but make it fun. The Claire Dunphy style of neurotically micromanaging every detail will add stress and set us all up for failure. If we have addressed the questions already stated above, then we are well on our way to a successful portrait session. Nonetheless, we do need to address the all-important issue of "what to wear." In the future, I will be dedicating an entire blog post to this significant element in a portrait session, but there are some key factors that I will share as they relate to the family portrait session.
Allow me to reemphasize: keep it simple. When someone looks at your family portrait, they will be focusing on your faces and reflecting on the relationships among your family members. This is not a portrait of outfits, it is a portrait of precious family members who are individuals, yet part of a dynamic family unit. That is not to say that the wardrobe is not important, but it should not become the focal point. Bold patterns and large graphics tend to take the focus away from the people. Outfits that are too matching actually become distracting. Having everyone in exactly the same thing makes it difficult for me to pose members in a way that creates layers and interest by separating bodies but still creating connectedness. This is why I advise against dressing members in black or white, not to mention that wearing black or white will wash out pale complexions.
Rather, when planning a wardrobe for a family session, it is best to choose clothing items that represent a family of coordinating colors. A few examples can be found above. Go back to your purpose. What is your intended use for these portraits? What is the color scheme in the room where you want to hang a large piece of wall art? Do you have an accent color in that room that you can use to make this portrait add interest? Is this going to be a casual or formal portrait? Does your intended setting dictate what might be appropriate? What colors look good on your family? If you want a palette of soft pastels, then remain consistent with that. If you want deep oranges, golds, and dark greens, then stay within that family. Shades of blues and tans can be a beautiful blend. I recommend laying the intended outfits out on the bed next to each other. If they are pleasing to the eye, then you are good to go.
When dressing the little ones, think about their comfort. Place your hand inside the clothes and feel it for yourself. Is there a scratchy seam where the tulle is gathered at the waist? Is there an annoying tag at the neck? Check the gathering points around arms, legs, and necks. Are they too tight? When buttoned or zipped, can they still move freely? These are things that can make for an unsuccessful portrait session. That outfit is only cute if the little body inside is happy.
Remaining consistent with the need for communication, be certain to make the wardrobe expectations clear to all members in advance of the session. You do not want to deal with a meltdown or resistance as you are trying to get everyone dressed on that day. Have the outfits set aside so that you are not rushing things in and out of the clothes dryer. Start getting ready early so that you are not rushed. If you are concerned about little people getting dirty, then dress them when you arrive at the location. Let them know that they are included in this special day and that "all of us are looking so nice today."
So, as we prepare to create your gorgeous family portrait, we will strive to "keep it simple, but make it fun." You bring me your prepped family and let me do the rest. Together, we can plan and communicate to enjoy a successful and stress-free family portrait session. Your family is already perfect. Let me show you just how beautiful that is.
You make the memories; I will help you cherish them.
Love and smiles,
Laura
---
There was a time when a portrait only existed as a sketch or painting. With the invention of the camera, a portrait could be captured on film and developed into an image on paper or some other medium. For centuries, portraits were a luxury and treasured.
It is amazing how differently we handle our images today. Most exist on our smart phones. Some get uploaded to a website or downloaded to a storage device for safe-keeping. Some get published on social media. A small percentage actually get printed and become tangible. Finding a way to display these few "print-worthy" pictures can make all the difference in how you are able to enjoy them.
Once you find that portrait that takes your breath away, you need to decide how you can use that portrait to enhance a particular space. You also need to consider what display method would make the most of that portrait for the display location that you have in mind. There is so much to consider. My goal in today's blog is to help you to better understand the options available to you with regard to displaying portraits, and to help you determine which display option would best meet your needs.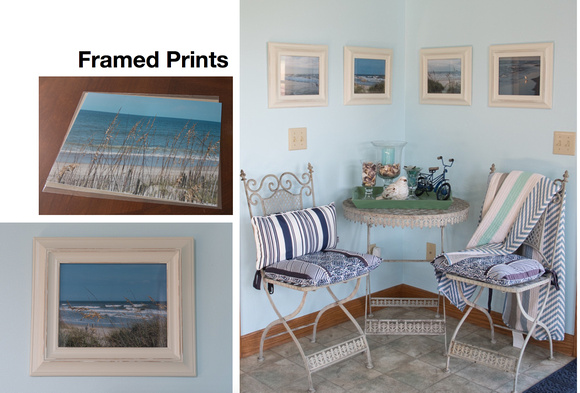 There is a significant difference in the reaction to an image that is presented as just an image, compared to an image that is displayed with a purpose. Simply placing a picture in a frame of appropriate size and in a complementary color or texture can elevate the impact of any image. Matting can certainly have the same effect. This does not have to be a huge investment. I have often purchased large framed art that had been place on clearance simply because I like the frame. I tear it apart and place my own image inside. Many of these clearance pieces of art have gorgeous frames and matting that only cost a fraction of what it would cost to buy it all separately. You can amaze yourself with the results. That portrait can come alive with enhanced depth once you get it on the wall.
If you are wiling to be a little adventurous and invest in a portrait display method that will really be something special, then you may want to consider some of the products that I offer in a category called "Home Decor." Within the Home Decor category, I will be talking about Print Wraps, Canvas Prints, Metals and Acrylic Prints. I recently purchased examples in each of these categories so that I could share the specifics with you and help you to make informed decisions when purchasing products from my website.
Print Wraps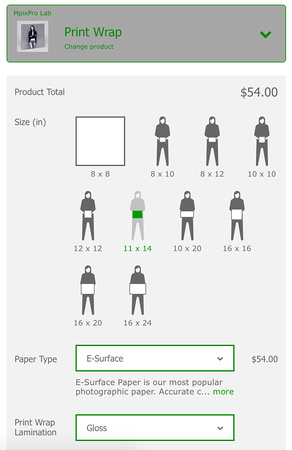 Print wraps are a fun way to give your images some dimension as the print is actually wrapped around a frame to make it a little puffy. It is about 3/8 of an inch thick. Because the edges are wrapped around the frame, you lose the ability to see the outer most edges as they get tucked into the back. The good news is that these are less expensive than canvas wraps, but are also less durable. You can choose from a wide range of sizes from 8 X 8 to 16 X 24. You can choose from the most common E-Surface paper or upgrade to the Kodak Metallic paper which has a little more luminescence. You can choose from a gloss or matte finish. I was impressed with how nicely the back is finished and that the mounting makes for easy hanging.
My print wrap sample that I ordered is 11 X 14 on E-Surface paper with a gloss finish. In the pictures, you can see how the corners are finished and the mounting block is attached for hanging. It is not very heavy, so wall mounting is not a big concern. You can see that the mounting block also elevates it away from the wall and makes your portrait "stand out" nicely. The E-Surface can be wiped off, but would not hold up very well if hung in a location where it could get dirty and require cleaning beyond dusting. So, a kitchen or bathroom where you have the likelihood for grease or steam could cause this print to show some wear.
Canvas Prints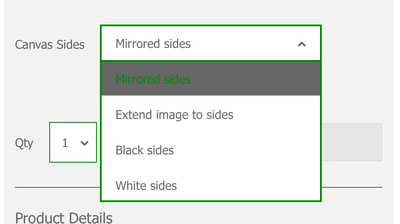 Most people have an idea about what to expect with a canvas print, as they are fairly common. These pieces are a little more expensive than a print wrap, but the improvement in quality and durability is evident. In my opinion, the canvas print really elevates a portrait to "art" status. The texture is less reflective so your portrait can be seen from most angles with no glare. The canvas prints are actually canvas gallery wraps, and how you choose to wrap will make a difference in the resulting look of the piece.
When ordering a canvas wrap, there are several choices that will impact your final product. Canvas wraps can be ordered in a range of sizes from 8 X 10 to 24 X 36. There is a drop-down menu of choices for the canvas sides. Your print is wrapped around a frame that is 1.5 inches thick, so you can choose what the sides look like. Your options are mirrored sides, extend image to sides, black sides, or white sides.
The option of "mirrored sides" is my least favorite. Your entire print will look perfectly normal from the front, but the side edges that are wrapped around the frame are a "mirror image" of what is on the outer edge of your print. I feel that it looks a little confusing for most images.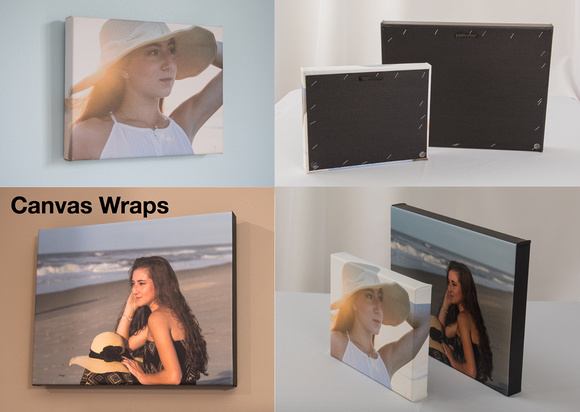 The second option, "extend image to sides," does exactly what it says. You will see less of your image on the front of the print because the outer edges are wrapped around the frame. Two of the samples that I ordered represent this option. Both the large seascape and the small close-up of my daughter in the hat are canvas wraps that extend the image to the sides. I like this option because you feel like you are still seeing the portrait as you walk from side to side. However, it is not a good option if your portrait does not have much space around the edges. You don't want important features to be lost because they are wrapped around the frame and no longer visible from the front.
The final two options, black sides and white sides, are basically the same. The entire image will be visible on the canvas from the front. There is no image on the side edges. The sides are painted black or white, depending on the preference you indicate. The sample of my daughter sitting on the beach shows the black sides option. I am very pleased with this look, as well, because I feel it frames the portrait and you don't loose the ability to see any parts of the image from the front.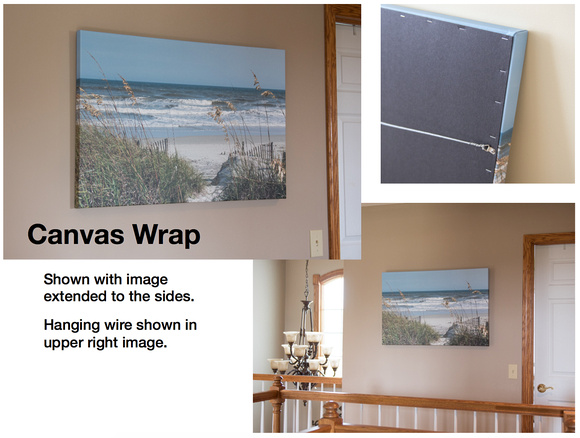 These canvas wraps are finished nicely on the back where the canvas is secured by many staples. They are ready for hanging with hardware appropriate for the size. The large 24 X 36 of the seascape has a very sturdy wire for hanging that is more than sufficient since the canvas and frame are fairly light. The other two sizes shown are 11 X 14 and 8 X 10 and have brackets attached for hanging.
Metals
The modern metal print is a fairly new option to my customers and I really wasn't sure what to expect. Let's just say, it is exactly what its name implies. It is a really cool modern look and it is metal. Now, if you are looking for durability and you want the colors to pop, then this may be the option for you. The website description says it best, "Add contemporary style to your photography with aluminum prints. Images are printed using a dye-sublimation process to create a stunning finished product." At only $49.99 for an 11 X 14, it is a very enticing choice.
These are truly amazing! I'm not sure how they get it to look so glossy and vibrant, but I was so impressed when I opened the box. As you can see from the pictures above, the easy mounting block on the back elevates the portrait away from the wall to add even more dimension. Modern metal prints come in sizes ranging from 8 X 10 to 20 X 30. I can just imagine these hanging in a business or restaurant. A home or office with a modern flair would receive a nice upgrade with these modern metal prints on the walls.
Acrylic Prints
The final Home Decor product that I am featuring in this blog is the acrylic print. I would have preceded that statement with a drum roll if I had audio because the acrylic print is truly something special. The website description says, "After the photo is printed directly to the 1/4" acrylic, a layer of opaque white ink is screen printed on the back to create a product that highlights the vibrant colors and fine details of the image." Wow! That's all I can say. Just let a little light pass behind the image and it absolutely glows. It comes with four stainless steel "standoffs" for mounting onto the wall. The mounting is rather permanent, so be sure you are willing to live with the portrait in that spot for a long time. I have not mounted mine because I intend to bring it with me as a sample when I meet with my couples for wedding consultations.
Acrylic prints only come in four sizes ranging from 16 X 16 to 19.5 X 23.5. They are an investment, but will look fabulous forever and can be easily wiped clean.
This summary shot shows a close-up of the corners of each home decor product for ease in comparison. Hover over the image to reveal the caption that will identify each home decor product.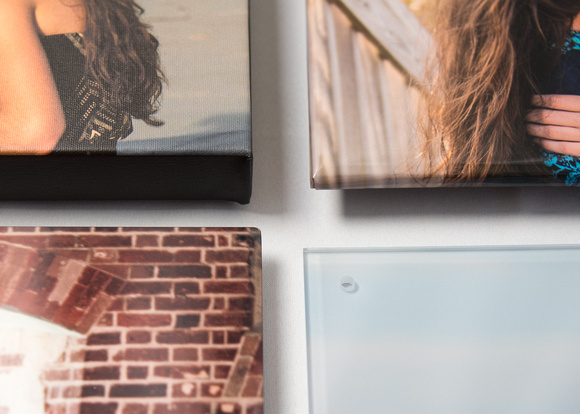 Top left - Canvas Gallery Wrap . Top right - Print Wrap . Bottom left - Modern Metal . Bottom right - Acrylic
As with all orders, there is a charge for shipping. Mpix goes the extra mile when packaging your order to be sure that it arrives at your doorstep safely. Every product was carefully wrapped in several layers of protection and secured in place with tape inside the box so that there is no bumping the sides of the box in transport. My only complaint is that it took me a long time to get through all of the layers to see my beautiful treasures inside.
I am always available to assist my clients with the ordering process, and I would be happy to offer advice about sizes, product choices, and placement in your home or office. The possibilities are endless. So, as you browse through your gallery of portraits, you may be looking with a new purpose. Take that favorite portrait(s) and elevate it (them) to a level of even greater impact. I am certain that you will love your portraits even more.
Love and smiles,
Laura
---
Once upon a time, specifically in October of 2008, this beautiful young lady took a chance and asked me to take her senior portraits. With much tempered excitement, I agreed to give it a try. Although I look back at those images and find it appalling that I delivered portraits with such poor quality in lighting and white balance, I can recall the flutter I felt capturing and editing them. I find it amazing that I am able to experience that same excitement with every portrait session, over and over again. I think they call that passion, and I am so blessed to have found mine. The blessing is even greater that I am able to make this passion my new career direction on a full-time basis.
The journey that has led me to this place has not been easy. Most things that we appreciate dearly are the things that come about as a result of adversity of some kind. You see, I was born as a teacher, a middle school science teacher, to be exact. I was fortunate enough to serve in this role for 25 years. I loved my students. I loved my science content. I loved my school. But, as they say, all good things must come to an end. The only constant in education is change. Sadly, there were enough changes in various entities that my role as teacher was no longer the same. It no longer allowed me to use my expertise as a professional to approach teaching as both an art and a science. I always felt that my creativity in these areas and my personal connections with my students made me an effective teacher.
The struggle was real, and it became manifested in a contentious teacher strike. One ugly event lead to another, and after a very difficult journey over the past nine months, I have found myself in a very good place: a place of excitement, rejuvenation, and some healthy fear. I have made the conscious decision to leave the "security" of a contracted teaching position with all of its benefits to pursue my photography business on a full-time basis.
So, what does this mean for my clients? It means that they have my dedication of time and talent to make myself more accessible to their needs and schedules. It means that I am dedicated to my professional development as I participate in courses, workshops, and webinars to learn new techniques and improve my skills. It means that I am free from distractions and able to truly focus on my role as photographer. It means that I can offer better customer service and make each portrait session a priority. Most importantly, it means that I have found a new emotional eye for my art, and this translates into more meaningful portraits.
This new "emotional eye" that I mentioned is the result of the journey that I have traveled, with the most meaningful miles passing in the last nine months. I have been forced to examine myself with raw honesty and forced myself to face the difficult questions. I credit the rewards of this journey to my amazingly supportive family and friends, my counselor who helped me to see what I already knew, and my God who placed me on this path and helped to show me the way.
Meaning and purpose. You see, I am passionate about anything that I pour myself into. At one time, this was teaching. When I was no longer able to find my meaning and purpose in education, I lost my passion; I lost myself.
Here comes the scary part. How do I find my meaning and purpose, and still contribute to the family? Already having my photography business on a part-time basis for nine years made the transition to full-time much easier. Nonetheless, I am taking a leap of faith that I can maintain this business at a sustaining level. I am pouring myself into making this work because it is my passion.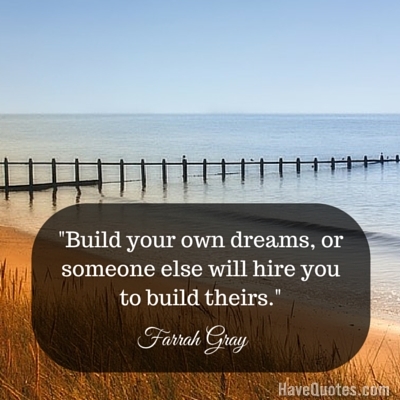 Meaning and purpose: it is here, in my role as a photographer. When I look through my viewfinder and see the composition that focuses on my subject and blocks out everything else, I feel the emotion that I intend to convey. When I see that image pop up on the LCD screen on the back of my camera, I often gasp with excitement. When I show my client their beautiful portrait, I see their face light up with a new appreciation for who they are. I see them gain some confidence. I see them embrace the process because they trust me to show the beauty they possess. When I see the emotion well up in parents as they gaze on the portrait of their child with an appreciation for the lasting memory that I am able to provide for them, I have found my meaning and purpose.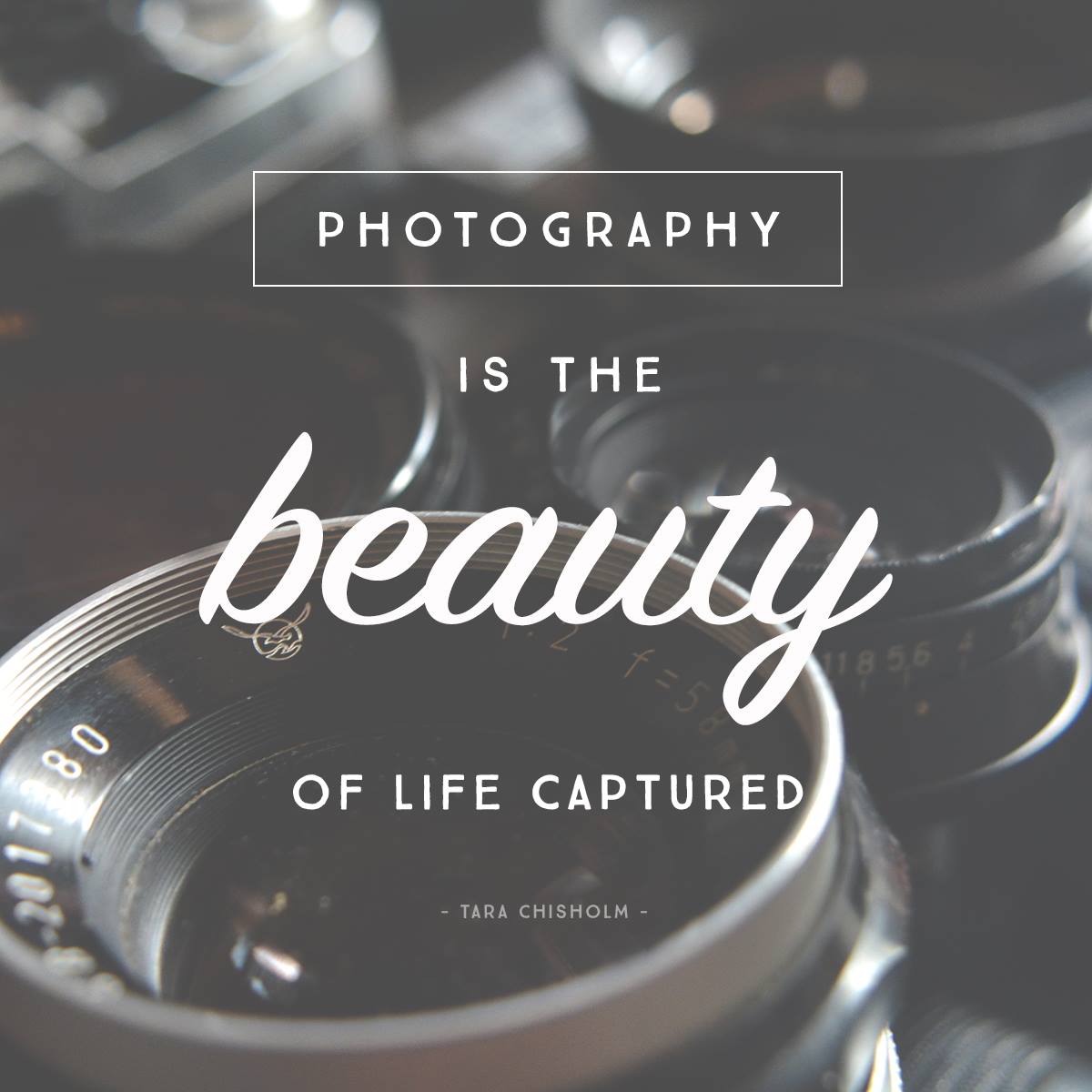 So, it is with much gratitude that I formally announce my commitment to being your full-time photographer. My journey has helped me to not only see what really matters in life, but to focus on it, and to provide you with a tangible way to hold on to it, in all of its stages, forever.
You make the memories; I will help you cherish them.
Love and smiles,
Laura