Welcome to my blog. As a portrait photographer, I find that I have a lot to capture, a lot to share, and a lot to say. You will find some helpful tips along the way to make your portrait experience the best that it can be. Thank you for letting me share with you!
There was a time when a portrait only existed as a sketch or painting. With the invention of the camera, a portrait could be captured on film and developed into an image on paper or some other medium. For centuries, portraits were a luxury and treasured.
It is amazing how differently we handle our images today. Most exist on our smart phones. Some get uploaded to a website or downloaded to a storage device for safe-keeping. Some get published on social media. A small percentage actually get printed and become tangible. Finding a way to display these few "print-worthy" pictures can make all the difference in how you are able to enjoy them.
Once you find that portrait that takes your breath away, you need to decide how you can use that portrait to enhance a particular space. You also need to consider what display method would make the most of that portrait for the display location that you have in mind. There is so much to consider. My goal in today's blog is to help you to better understand the options available to you with regard to displaying portraits, and to help you determine which display option would best meet your needs.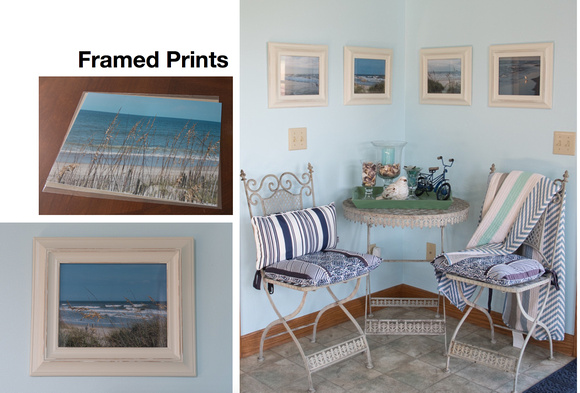 There is a significant difference in the reaction to an image that is presented as just an image, compared to an image that is displayed with a purpose. Simply placing a picture in a frame of appropriate size and in a complementary color or texture can elevate the impact of any image. Matting can certainly have the same effect. This does not have to be a huge investment. I have often purchased large framed art that had been place on clearance simply because I like the frame. I tear it apart and place my own image inside. Many of these clearance pieces of art have gorgeous frames and matting that only cost a fraction of what it would cost to buy it all separately. You can amaze yourself with the results. That portrait can come alive with enhanced depth once you get it on the wall.
If you are wiling to be a little adventurous and invest in a portrait display method that will really be something special, then you may want to consider some of the products that I offer in a category called "Home Decor." Within the Home Decor category, I will be talking about Print Wraps, Canvas Prints, Metals and Acrylic Prints. I recently purchased examples in each of these categories so that I could share the specifics with you and help you to make informed decisions when purchasing products from my website.
Print Wraps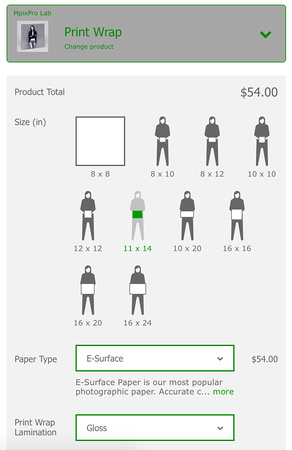 Print wraps are a fun way to give your images some dimension as the print is actually wrapped around a frame to make it a little puffy. It is about 3/8 of an inch thick. Because the edges are wrapped around the frame, you lose the ability to see the outer most edges as they get tucked into the back. The good news is that these are less expensive than canvas wraps, but are also less durable. You can choose from a wide range of sizes from 8 X 8 to 16 X 24. You can choose from the most common E-Surface paper or upgrade to the Kodak Metallic paper which has a little more luminescence. You can choose from a gloss or matte finish. I was impressed with how nicely the back is finished and that the mounting makes for easy hanging.
My print wrap sample that I ordered is 11 X 14 on E-Surface paper with a gloss finish. In the pictures, you can see how the corners are finished and the mounting block is attached for hanging. It is not very heavy, so wall mounting is not a big concern. You can see that the mounting block also elevates it away from the wall and makes your portrait "stand out" nicely. The E-Surface can be wiped off, but would not hold up very well if hung in a location where it could get dirty and require cleaning beyond dusting. So, a kitchen or bathroom where you have the likelihood for grease or steam could cause this print to show some wear.
Canvas Prints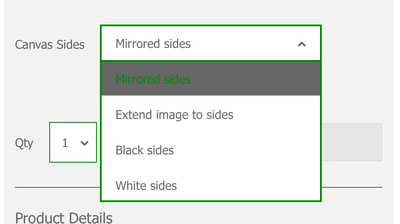 Most people have an idea about what to expect with a canvas print, as they are fairly common. These pieces are a little more expensive than a print wrap, but the improvement in quality and durability is evident. In my opinion, the canvas print really elevates a portrait to "art" status. The texture is less reflective so your portrait can be seen from most angles with no glare. The canvas prints are actually canvas gallery wraps, and how you choose to wrap will make a difference in the resulting look of the piece.
When ordering a canvas wrap, there are several choices that will impact your final product. Canvas wraps can be ordered in a range of sizes from 8 X 10 to 24 X 36. There is a drop-down menu of choices for the canvas sides. Your print is wrapped around a frame that is 1.5 inches thick, so you can choose what the sides look like. Your options are mirrored sides, extend image to sides, black sides, or white sides.
The option of "mirrored sides" is my least favorite. Your entire print will look perfectly normal from the front, but the side edges that are wrapped around the frame are a "mirror image" of what is on the outer edge of your print. I feel that it looks a little confusing for most images.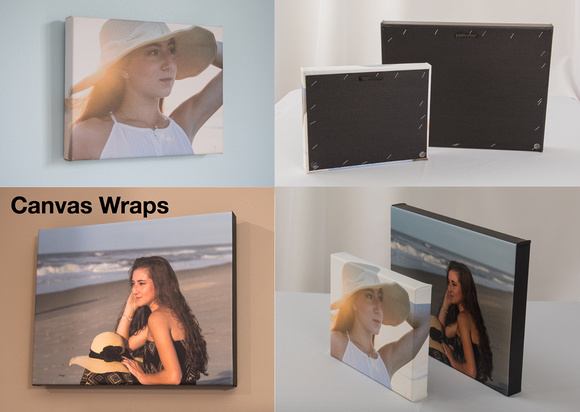 The second option, "extend image to sides," does exactly what it says. You will see less of your image on the front of the print because the outer edges are wrapped around the frame. Two of the samples that I ordered represent this option. Both the large seascape and the small close-up of my daughter in the hat are canvas wraps that extend the image to the sides. I like this option because you feel like you are still seeing the portrait as you walk from side to side. However, it is not a good option if your portrait does not have much space around the edges. You don't want important features to be lost because they are wrapped around the frame and no longer visible from the front.
The final two options, black sides and white sides, are basically the same. The entire image will be visible on the canvas from the front. There is no image on the side edges. The sides are painted black or white, depending on the preference you indicate. The sample of my daughter sitting on the beach shows the black sides option. I am very pleased with this look, as well, because I feel it frames the portrait and you don't loose the ability to see any parts of the image from the front.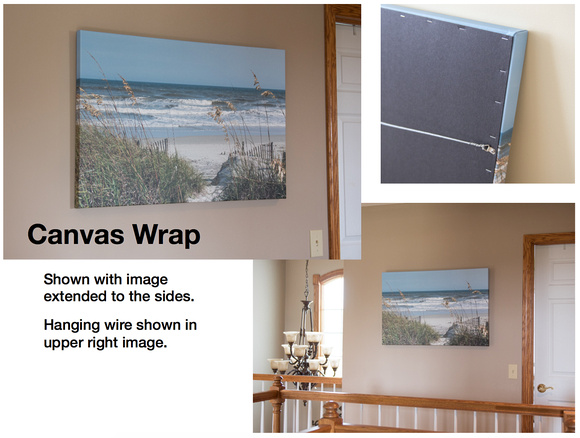 These canvas wraps are finished nicely on the back where the canvas is secured by many staples. They are ready for hanging with hardware appropriate for the size. The large 24 X 36 of the seascape has a very sturdy wire for hanging that is more than sufficient since the canvas and frame are fairly light. The other two sizes shown are 11 X 14 and 8 X 10 and have brackets attached for hanging.
Metals
The modern metal print is a fairly new option to my customers and I really wasn't sure what to expect. Let's just say, it is exactly what its name implies. It is a really cool modern look and it is metal. Now, if you are looking for durability and you want the colors to pop, then this may be the option for you. The website description says it best, "Add contemporary style to your photography with aluminum prints. Images are printed using a dye-sublimation process to create a stunning finished product." At only $49.99 for an 11 X 14, it is a very enticing choice.
These are truly amazing! I'm not sure how they get it to look so glossy and vibrant, but I was so impressed when I opened the box. As you can see from the pictures above, the easy mounting block on the back elevates the portrait away from the wall to add even more dimension. Modern metal prints come in sizes ranging from 8 X 10 to 20 X 30. I can just imagine these hanging in a business or restaurant. A home or office with a modern flair would receive a nice upgrade with these modern metal prints on the walls.
Acrylic Prints
The final Home Decor product that I am featuring in this blog is the acrylic print. I would have preceded that statement with a drum roll if I had audio because the acrylic print is truly something special. The website description says, "After the photo is printed directly to the 1/4" acrylic, a layer of opaque white ink is screen printed on the back to create a product that highlights the vibrant colors and fine details of the image." Wow! That's all I can say. Just let a little light pass behind the image and it absolutely glows. It comes with four stainless steel "standoffs" for mounting onto the wall. The mounting is rather permanent, so be sure you are willing to live with the portrait in that spot for a long time. I have not mounted mine because I intend to bring it with me as a sample when I meet with my couples for wedding consultations.
Acrylic prints only come in four sizes ranging from 16 X 16 to 19.5 X 23.5. They are an investment, but will look fabulous forever and can be easily wiped clean.
This summary shot shows a close-up of the corners of each home decor product for ease in comparison. Hover over the image to reveal the caption that will identify each home decor product.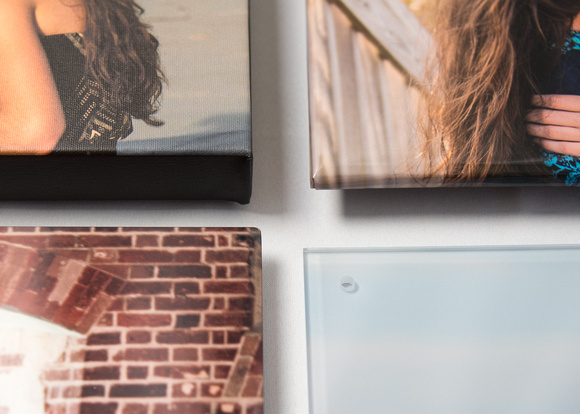 Top left - Canvas Gallery Wrap . Top right - Print Wrap . Bottom left - Modern Metal . Bottom right - Acrylic
As with all orders, there is a charge for shipping. Mpix goes the extra mile when packaging your order to be sure that it arrives at your doorstep safely. Every product was carefully wrapped in several layers of protection and secured in place with tape inside the box so that there is no bumping the sides of the box in transport. My only complaint is that it took me a long time to get through all of the layers to see my beautiful treasures inside.
I am always available to assist my clients with the ordering process, and I would be happy to offer advice about sizes, product choices, and placement in your home or office. The possibilities are endless. So, as you browse through your gallery of portraits, you may be looking with a new purpose. Take that favorite portrait(s) and elevate it (them) to a level of even greater impact. I am certain that you will love your portraits even more.
Love and smiles,
Laura
---
Once upon a time, specifically in October of 2008, this beautiful young lady took a chance and asked me to take her senior portraits. With much tempered excitement, I agreed to give it a try. Although I look back at those images and find it appalling that I delivered portraits with such poor quality in lighting and white balance, I can recall the flutter I felt capturing and editing them. I find it amazing that I am able to experience that same excitement with every portrait session, over and over again. I think they call that passion, and I am so blessed to have found mine. The blessing is even greater that I am able to make this passion my new career direction on a full-time basis.
The journey that has led me to this place has not been easy. Most things that we appreciate dearly are the things that come about as a result of adversity of some kind. You see, I was born as a teacher, a middle school science teacher, to be exact. I was fortunate enough to serve in this role for 25 years. I loved my students. I loved my science content. I loved my school. But, as they say, all good things must come to an end. The only constant in education is change. Sadly, there were enough changes in various entities that my role as teacher was no longer the same. It no longer allowed me to use my expertise as a professional to approach teaching as both an art and a science. I always felt that my creativity in these areas and my personal connections with my students made me an effective teacher.
The struggle was real, and it became manifested in a contentious teacher strike. One ugly event lead to another, and after a very difficult journey over the past nine months, I have found myself in a very good place: a place of excitement, rejuvenation, and some healthy fear. I have made the conscious decision to leave the "security" of a contracted teaching position with all of its benefits to pursue my photography business on a full-time basis.
So, what does this mean for my clients? It means that they have my dedication of time and talent to make myself more accessible to their needs and schedules. It means that I am dedicated to my professional development as I participate in courses, workshops, and webinars to learn new techniques and improve my skills. It means that I am free from distractions and able to truly focus on my role as photographer. It means that I can offer better customer service and make each portrait session a priority. Most importantly, it means that I have found a new emotional eye for my art, and this translates into more meaningful portraits.
This new "emotional eye" that I mentioned is the result of the journey that I have traveled, with the most meaningful miles passing in the last nine months. I have been forced to examine myself with raw honesty and forced myself to face the difficult questions. I credit the rewards of this journey to my amazingly supportive family and friends, my counselor who helped me to see what I already knew, and my God who placed me on this path and helped to show me the way.
Meaning and purpose. You see, I am passionate about anything that I pour myself into. At one time, this was teaching. When I was no longer able to find my meaning and purpose in education, I lost my passion; I lost myself.
Here comes the scary part. How do I find my meaning and purpose, and still contribute to the family? Already having my photography business on a part-time basis for nine years made the transition to full-time much easier. Nonetheless, I am taking a leap of faith that I can maintain this business at a sustaining level. I am pouring myself into making this work because it is my passion.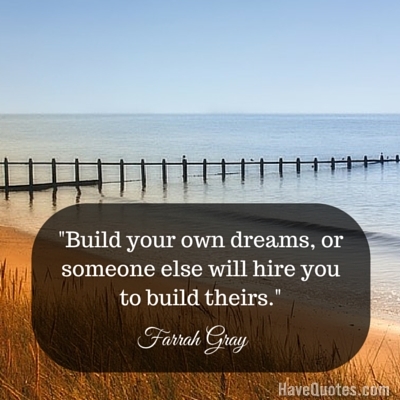 Meaning and purpose: it is here, in my role as a photographer. When I look through my viewfinder and see the composition that focuses on my subject and blocks out everything else, I feel the emotion that I intend to convey. When I see that image pop up on the LCD screen on the back of my camera, I often gasp with excitement. When I show my client their beautiful portrait, I see their face light up with a new appreciation for who they are. I see them gain some confidence. I see them embrace the process because they trust me to show the beauty they possess. When I see the emotion well up in parents as they gaze on the portrait of their child with an appreciation for the lasting memory that I am able to provide for them, I have found my meaning and purpose.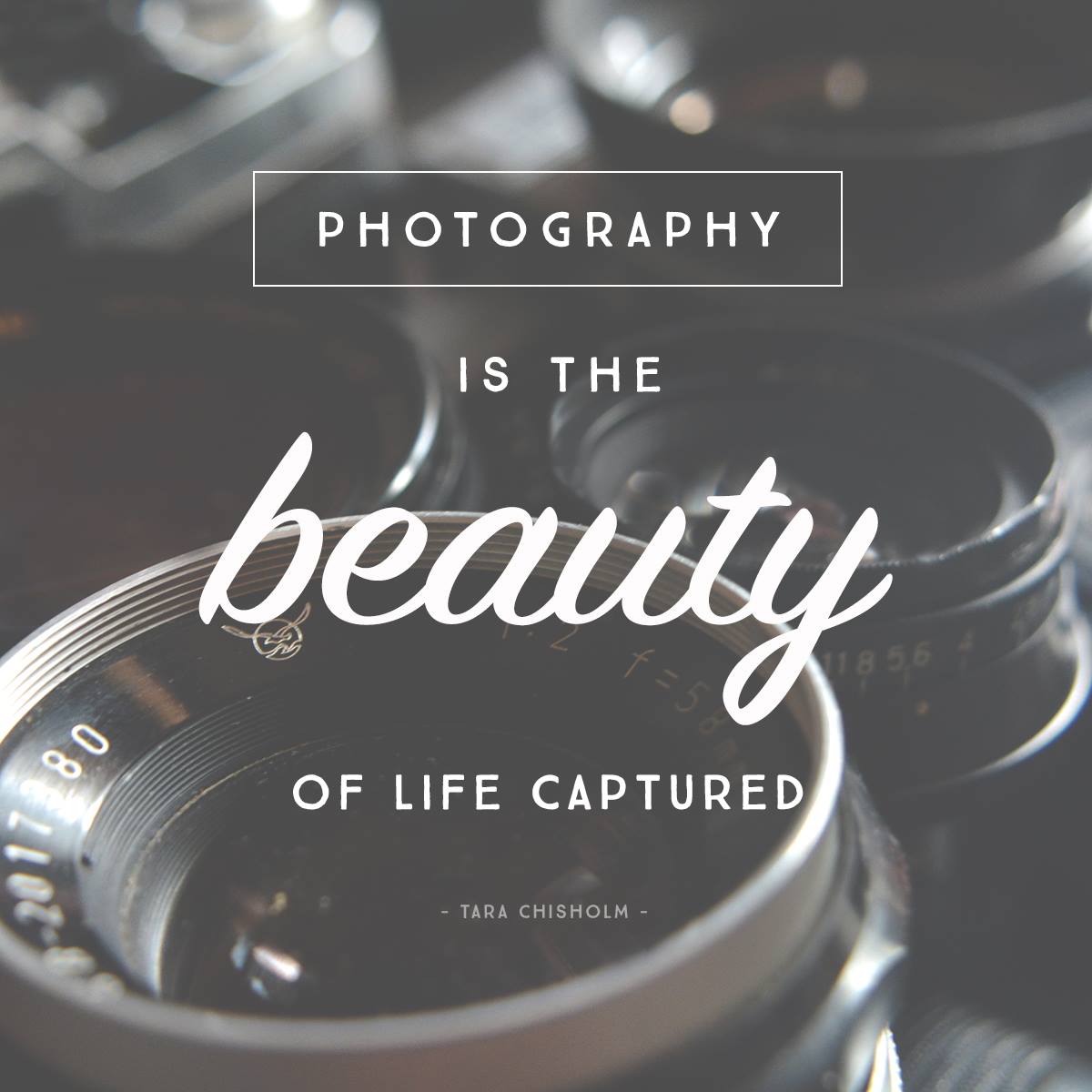 So, it is with much gratitude that I formally announce my commitment to being your full-time photographer. My journey has helped me to not only see what really matters in life, but to focus on it, and to provide you with a tangible way to hold on to it, in all of its stages, forever.
You make the memories; I will help you cherish them.
Love and smiles,
Laura
---
So much goes into planning that senior portrait session. In previous blogs, we have discussed time and place, so our next consideration is wardrobe. Most will stand in front of a closet or dresser and look for that outfit that will be just perfect. So many factors can determine which clothing options might be better than others. Today's blog is meant to help you make some wise choices that will lead to your beautiful portraits.
First of all, why narrow it down to just one outfit? You have many sides to your personality, so you should have many styles to reflect those qualities. However, we don't want to spend the whole session changing from one outfit to another. We do need to actually take the portraits. So, finding a way to filter through the many options will be necessary.
As in so many tasks, I advise my seniors to keep it simple. The fewer layers that you have to adjust and the fewer pieces of jewelry that we need to straighten, the better. I do not make this statement out of a desire to rush through your session, but rather from experiencing the visual result of too much going on in a portrait. Remember, these are portraits of a very special individual (you) at a very special time in your life. We want the focus to be on you, and not on all of the things attached to your body.
Keeping it simple usually lends itself to my next piece of advice, which is to be comfortable. I'm going to be working hard to get natural expressions and easy smiles. That is so difficult if you are struggling to breathe because the neck is just too tight, or gritting your teeth because the sweater is just so itchy. We want to look at these portraits and think about how much they reflect the real YOU. So, choose pieces of clothing that you would actually be seen wearing in real life. If you absolutely never wear a shirt with a collar, then don't buy one just because you think you should have it in a portrait. You will probably need a formal shot for the yearbook, but there is no need to pretend you are someone else for your portrait session. That defeats our whole purpose, which is to showcase you as the special individual that you are.
Since we are showcasing YOU, choose clothes that are flattering to you. Think about anything that tends to elicit complements when you wear it. We all have parts of ourselves that we like better than others. Think about what might help to highlight your favorite traits and camouflage the ones that you are a little self-conscious about. Be careful to avoid clothes that are too tight or revealing. It can become very distracting in a portrait. Consider tan lines or exposed straps that may require continual adjustment. If we have too many things to watch out for, chances are, something will be amiss in that favorite shot and we won't catch it until I am in the editing phase when it is too late.
One of the most important considerations in your wardrobe is color. Oh, we can have so much fun with some variety in color. The first thing I will ask to see when we meet at a portrait session is your variety of outfits. I will be looking at the colors and making my decisions about which locations will be best for each outfit that you have packed up in the car. The season and location can play a role in making decisions on color. Also, be sure to consider your skin tone, hair color, and eye color. You probably know what colors are especially complementary to you. Make sure to bring those colors along.
As you dig through your closet, my suggestion is to bring more than you may actually use. I will be happy to look at your collection and advise you on which pieces will be your best choices. In the end, you will have beautiful portraits that fit your personality, demonstrate the many sides to your personality, and are cherished because the focus is on you.
You make the memories; I will help you cherish them.
Love and smiles,
Laura
---
Don't you just love that question, "Where do you see yourself in five years?" Some of us have an automatic answer and others really have to stop to think about it. Some of us know exactly what we want, while others are just trying to manage the events of today. I have found that the question of "Where do you see yourself for your senior portrait session?" often renders the same range of responses. Some have a clear vision for the setting they desire, and others have no idea. The purpose of today's blog is to offer some "direction" for choosing a location for your senior session.
While many may be automatically focused on the backdrops and landscapes that can be found in various locations, my first consideration is LIGHT. The amount of ambient light that is available and the opportunities for it to be reflected or absorbed are crucial to my ability to function as a portrait photographer. Soft variations in light with much access to shaded areas will allow for the variation in portraits that I intend to provide. This is another reason I work within the two hours before sunset. Wide open spaces are fine for some shots from a distance, if the sun is at a very low angle, or if it is overcast. Most of our work must be in shade with ambient light spilling in.
What does this mean for a location? It means that we need cover of some sort. Trees, buildings, or structures that are tall or with overhangs are going to offer those shaded spaces. Pavilions, gazebos, porches, breezeways, barns, sheds, parking decks, stacks of straw bales, and retaining walls can all offer refuge from direct sun. Once we find these areas, we can get creative in how we utilize them.
Now that we are looking for locations with shade and ambient light, we can think about variety. One of my goals in a portrait session is to offer you many different types of portraits. You are a multidimensional individual with many different sides and I intend to allow those to be expressed. Sure, we can do close-ups and distance shots, serious and smiling expressions, looking off into the distance and looking at the camera angles. But, if every one of those portraits includes the same tree, where is the fun in that? I like some variety in vegetation, variety in architecture, variety in elevations, variety in color. We want to have fun with this!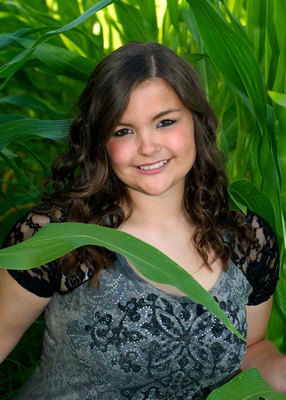 Cora - Class of 2015
Scott - Class of 2015
When thinking about location, it is imperative to consider the personality of the senior and determine what might be the best fit. The earthiness of a farm setting might be perfect for one individual, but the edginess of a metropolitan area is most fitting for another. The whimsy of a playground may bring out the playfulness of a lighthearted senior, but an upscale shopping complex may allow another to express his/her style. Since our seniors have many layers to their personalities, multiple locations can be used if carefully orchestrated.
The obvious consideration, and sometimes limiting, is access to desired locations. We may need to request permission to use specific areas. Busy times should be avoided so that other patrons or visitors are not impeding our progress. Always being respectful of the properties and other people is a must. I have experienced such gracious cooperation from people when they recognize that our intentions are sincere and that we understand their needs.
Having said that, let's think about the types of locations that we may want to consider. Again, we need to assess the ability to gain access, and times when our presence would be least disruptive, yet within the two hours before sunset. That is where it can get tricky.
Some locations where I have found success include local and state parks if they aren't too busy. Schools, stadiums, tracks, and high school fields can provide settings to highlight your high school career. Family farms are perfect because there are so many textures and structures to offer variety, and we typically have the whole place to ourselves. College campuses are usually well-maintained and offer much variety. Golf courses can be beautiful, but you should have knowledge of where you are permitted. Wineries and vineyards are a gorgeous setting, but may require permission. Metropolitan areas can be surprisingly effective, but be prepared to watch for traffic and pedestrians. For some seniors, there may be locations that have special significance and could provide portraits with deeper meaning and purpose. I am all about customizing the experience and making this portrait session truly yours!
You make the memories; I will help you cherish them.
Love and smiles,
Laura
---
Here we are! We are well into June and we really need to get a date on the calendar for a senior portrait session. It is so easy to put this task off, but the longer we wait, the more likely we are to become stressed about fitting it in. Summer flies by. Fall is over in a blink. Before we know it, we are singing Christmas carols. But, how can we commit to a date when we aren't even sure what is happening next week?
Well, I have found that my calendar rules my crazy life. If it is on my calendar, then it will happen. So, we just need to get a date on our calendars for a senior portrait session. But, how do we choose the best time? That depends on many factors. Let's see if we can narrow this down.
First, we need to be realistic and look at our commitments. If the Senior is dedicated to sports, music, dance, 4-H, ministry, etc., then we need to determine if those schedules will interfere with finding a free evening for a senior portrait session. This may dictate a month or even a season during which this can or cannot happen.
Madi - Class of 2016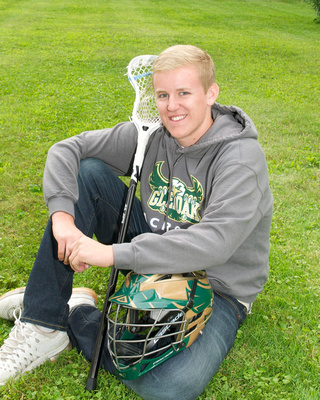 Kyle - Class of 2016
Once you have determined the time of year that can work with your schedule, then think about the season of the year that is a good fit for you. Some just love the lush green of spring. Others want the full bloom of summer flowers. Many people crave the rich colors of an Ohio fall. I have had Seniors who just love a crisp winter with its fresh snow and stark landscapes. Remember that your choice of season dictates wardrobe. It also determines the start time for our session. The optimal time for gorgeous portraits is within the two hours before sunset. In the late spring and summer, my start times are usually 6:30 in the evening, or so. If we are scheduling into late fall, we would need to start around 4:00 in the afternoon. Work and school schedules might need to be adjusted.
Kendra - Class of 2016
Marisa - Class of 2016
My next recommendation is for you to consider all of the other things on your calendar that could affect the Senior's appearance at that time. For example, I have had Seniors scheduled for a portrait session immediately after a beach vacation. They thought they used enough sunscreen, but that red glow just couldn't be hidden. Another mother was appalled when her Senior shaved his head in preparation for a swim meet. I can do a lot of things in post production, but putting hair on that shaved head was not an option.
One thing that is so difficult to anticipate is how much a senior in high school might change in the course of the school year. Portraits taken in June may not even resemble this evolved individual walking across the stage at commencement the following May. Change is inevitable, but whether it is a factor that concerns you is a personal decision. There have been many extremely successful portrait sessions that we have done in April and May of their senior year. Some people are not comfortable with a tight time frame like that, but it is an option.
I would be remiss if I didn't mention that weather is a huge factor in scheduling a portrait session. Yes, we live in Ohio. For this reason, I typically assign my Seniors to a week on my calendar. As that week approaches, we touch base and use the weather forecast to determine which evening of that week seems to be the most conducive to a portrait session. Despite how hard mother nature may try to thwart our plans, I have ALWAYS managed to make something work.
Rachel - Class of 2016
Kyle - Class of 2016
So.... Let's do this! Let's find the perfect time to celebrate your Special Senior and make some portraits for you and your family to love. Remember my motto: You make the memories; I will help you cherish them.
Love and smiles,
Laura