Archive
January
February
March
April
May
June
July
August
September
October
November
December
Welcome to my blog. As a portrait photographer, I find that I have a lot to capture, a lot to share, and a lot to say. You will find some helpful tips along the way to make your portrait experience the best that it can be. Thank you for letting me share with you!
Once upon a time, I found my aspirations, inspirations, and delight in nature photography. My research led to educated purchases for the pursuit of amazing nature shots. I took classes and workshops to sharpen my skills in landscape and macro photography. I subscribed to Outdoor Photographer and planned family vacations around the availability of scenic locations.
I found inspiration in all things natural. Trees and flowers were among my favorite subjects.
Anytime I could find some critters willing to cooperate, I was ecstatic!
Water was always my ultimate inspiration.
My practice in nature photography taught me about high dynamic range and the importance of maintaining detail in all parts of an image. I learned about balance and composition, and developed a keen eye for texture. The most valuable training came with an understanding of light. Recognizing the intensity, angles, temperature and direction of light are probably the most important tools for any photographer. All of this training and practice helped to mold me into the portrait photographer that I am, today.
So, how does a background in nature photography affect the style of a portrait photographer? Let's take a look.
First of all, I am keenly aware of all aspects of the environment. Light is always the first criteria that I evaluate to determine if a particular spot will help me to create a fabulous portrait. But, I am also paying attention to colors, textures, and lines to create a portrait composition that is both visually interesting and complementary to my subject. When I saw this beautiful blanket of leaves, I knew that Marisa would look absolutely stunning here with her dark green sweater and gorgeous cascading hair. Just look at how her blue eyes pop with this contrast of the orange, which is blue's complementary color.
The series of portraits that you see above are a result of the same kind of assessment. I was literally gasping as I was taking these shots of Natalie. The deep gold with flecks of green in the reeds behind her just made her skin glow and brought out the lovely rich variation of highlights in her hair. My exact words at the time may have been, "Holy crap, this is gorgeous!"
My inspiration for Victoria's environment resulted in a much softer series of portraits. The refined look of her lace dress and pearls just looked stunning against a backdrop of soft greens. The purple and pink hues of the hydrangea made her complexion look even more porcelain-like and seemed to soften the eyes. You just can't get this inspiration in a studio. In the first image, I used desaturation to create a nostalgic feel. I am in love with this dreamy look.
When choosing the perfect setting for this series of portraits of Allyson, I was again looking for that dreamy soft light, but with richer tones to go with her glowing complexion and warm hair tones. The blacks and greys in her scarf sent me looking for earth tones, but I love how the black iron railing tied it all together. The soft texture of the pine needles worked well with the geometric designs in the scarf. Just look at her eyes. This was another moment that took my breath away.
Early morning light has a very special quality, and that was my inspiration for these portraits of Victoria. First of all, we were at the beach. Hello... I love the beach and find myself awestruck by every view. So, using the ocean as a backdrop with this warm glow of the sunrise made me giddy. The color palette of blues and greys worked to show off her tan and blue eyes. The white sundress and straw hat made it feel fresh and joyful, which is exactly how I see Victoria. I can almost feel the warm breeze and smell the salty air. More importantly, this setting, while gorgeous on its own, brings the attention to Victoria.
Notice the different quality in the light of Sydney's portraits above. This sunset produced a cool, soft light that created a sense of serenity. Sydney has an inner glow that was complemented by the glow in her surroundings. When I saw that amazing sky reflected in the lake, I knew it would help to convey the genuine beauty that is Sydney. I remember actually feeling my breathing slow down as I took these images. I didn't want the moment to end.
For the portraits of Matt above, we obviously felt that the wooded area was perfect for the hunting theme we had going on. I was loving the light in the first image and was thrilled that I could show some variation in the foliage while still featuring the beauty in his gun. My focus was on his eyes that show such intensity and concentration which is needed for a hunter. I thought we were ready to leave that spot until I turned around and saw how pretty the sky looked with the setting sun. Letting that light spill over his shoulder almost points the way to where Matt is focusing with is bow. It is clear that Matt is in his element here and it was so fun for me to experience this with him.
Haley's portraits above are both examples of backlighting, but, WOW, are they ever different! The first portrait shows a lovely soft backlighting that makes her glow. The contrasting rough texture of the tree makes her beautiful face even softer and those eyes are just amazing. There was a shadow on the left side in the grass that almost served as natural frame to direct the focus to Haley. The second portrait of Haley uses the contrast in the sky to create a dramatic effect. The intensity of her expression and piercing eyes make her look just as fierce as she really is on the track. I know that I gave a gasp as I took each of these portraits but for very different reasons. Haley is a gorgeous, dynamic young lady, and I was so happy that I could show that.
As I continue to talk about light, take a look at these portraits of Jimmy. Oh my goodness! I don't recall if I said that exactly when I was looking through my camera (I may have said something a little stronger), but I can remember how I felt in that moment. We were near the end of the session and had found an old shed on this farm property that had a really cool hearth and fireplace. I loved the aged brickwork and thought it had great texture with some wonderful color contrast for Jimmy's blue shirt. Well, that particular setting didn't work so well because the light was too intense. I remember feeling disappointed that I couldn't make that spot work the way I wanted to, and turned to my left. My eyes fell upon this rustic grey door and the fabulous directional light that was spilling across it. There wasn't anything to sit on right there, but I knew exactly where I wanted to place Jimmy's face for this portrait. Jimmy is one of the most kind-hearted and respectful young men I have ever met. In an attempt to appease my search, he quickly found something and dragged it into place and sat down. He must have thought I was crazy because I remember almost squealing with excitement as I got him in place and looked through the eyepiece of my camera. The strength of his features and deep set of his eyes became more evident in this fabulous light. I contained my excitement the best I could until I got home and saw on my computer that this series of portraits really was all I hoped it would be.
To share with you my goals for the series of portraits of Lexi that you see above, I need to remind you that my roots as a nature photographer are strong. When Lexi explained to me her connection with this particular location on her grandparents' farm, I could totally appreciate that. I made it my mission to provide her with some really special portraits to help her remember this place and how it makes her feel. The cornfield, the fence line, the trees beyond that fence line, the lane she drives her truck through... all have special meaning. Her easy smile is a reflection of the joy that she feels here. Could she look any more relaxed and at peace here? This is just so Lexi. It makes my heart happy to see her in this place.
Here is a family with a connection to the land. This is a beautiful farm, but it is more than that to the Pusateri family. This is home. And, for some reason, when your home is shared with animals, it is even more precious. I love showing the relationships among family members, but when that can be enhanced by a setting where their love spills over to include their surroundings, it really becomes special.
This is the Stertzbach family and they have become quite near and dear to my heart. They are incredibly rooted in nature and keep themselves grounded with their cattle and dogs. This particular setting felt perfect for so many reasons. For one, it is located on the farm where they work so hard to raise their cattle. The pond in the background with the soft light made it feel serene. These fabulous trees seem to frame this family and direct attention to them. They also provided such soft shade and a sprinkling of leaves on the ground for interest. These are genuine smiles here. It all just feels so right. That is how it is working with them. Pure joy.
I could truly go on forever, but I will leave you with one last example. The Westfall (and Skolmutch) family is a special one for so many reason. Having been such close friends with them was probably a good thing because I may have been jumping up and down and squealing after I took some of these portraits. (If you haven't noticed, I get really excited about what I do.) I adore these portraits because I adore the people in them and the connections they have with each other. But just look at these settings! I feel like they are just framed by nature and these spots were just waiting for the family to nestle into them. I am smiling from ear to ear just writing about this because the emotions are still there.
So, yes, I may have started out as a nature photographer, but I have truly found my passion in portrait photography. I feel very connected with nature and I use nature to enhance the people in my portraits. It is so much more than just finding a pretty spot for a picture. It is using that spot to portray my subject in the most authentic way possible. The result is always a crowd pleaser. More importantly, I can create portraits that are beautiful because of the underlying emotion that tugs at the heart.
You make the memories; I will help you cherish them.
Love and Smiles,
Laura
---
When making the decision to invest in professional portraits, it can be difficult to compare photographers and to fully understand what you can expect once your decision is made. There are many different photographers and each has his or her own style with regard to the portraits they create and how they manage their relationships with clients throughout the process. This is a good thing, because there is surely one to fit your needs and preferences. My goal in this blog post is to explain the Laura Esposito Photography experience. You will find that the experience I create for you is based on my values and beliefs as an artist, a business woman, a fellow consumer, and a busy wife and mother.
Every portrait session is unique because every person or family is unique, but there are some specific steps in the process that remain the same. One common goal is that we set out to create some beautiful portraits for you to treasure and to have fun in the process. I like to "keep it simple and make it fun." Let's start at the beginning of the process to see how we make it happen.
Scheduling your portrait session
So, you have decided to entrust me with the privilege of creating treasured portraits for you and/or your family. Yay! Thank you! Let's set this up and make it happen. That means that we need to connect in order to communicate. Depending on your schedule, it can be a challenge. This is why I am happy to make that connection in whatever manner is easiest for you. A phone call (330) 704-6473 is great because we can have a conversation with much information shared at that moment in time. Unless I am engaged in a portrait session or in church, I will most likely be able to take your call. If you have never met me, you may just want to hear my voice to get a sense of who I am over the phone. However, if we have already met, you may prefer the flexibility of sending a message. I welcome messages from email (lespo@me.com), texting (330) 704-6473, and Facebook messaging (@lespophoto). I try to be prompt in my replies because I understand that you are ready to make some decisions and waiting for replies can be frustrating.
During our conversation, I will want to learn your goals for the portrait session so that we can best choose a time and place. I will want to know the subject(s) in the portraits, the intended purpose for the portraits, and any special requests or vision that you have in mind. Almost all of my portrait sessions take place outdoors, so we base our starting time on the sunset time. If you are scheduling a typical portrait session, we will make our start time two hours before sunset. This could be at 3:30 in the winter months or 7:00 in the summer. My Senior Portrait Sessions are usually the most inclusive and we often use all of the daylight we can get. A typical family portrait session is completed in an hour or less. It is important to remember that my portrait sessions are completely customizable. A family portrait session with extended family that includes portraits of various groupings will probably take longer than an hour. A High School Senior may have multiple settings that we need to use in order to fully tell his/her story. We can make that happen. If we are scheduling during busy months like September or October, we may want to get two dates on the calendar so that we have a back-up in case of rainy weather.
Once we have settled on a time and place, I will send you a portrait contract with the agreed upon information. I will ask that you review the specifics so that we are both clear on the needs and expectations from both of us. For a typical portrait session (weddings are the exception) you will bring the signed contract and payment to the portrait session. I do not require a deposit to hold your date. Thankfully, I have been blessed with wonderful clients who have never given me a reason to require a deposit.
Preparing for the portrait session
Once we have your portrait session scheduled, you will want to prepare your people, your wardrobe, and your props. I suggest that you take a look at some of the other blog posts that I have shared for helpful information. There is an entire series of blog posts dedicated to High School Seniors and one specifically for the Family Portrait Session that would be most helpful. I also suggest that you browse some of the other galleries on my website <lespo.zenfolio.com> to gain some inspiration. It is helpful if you come to the portrait session with some specific portrait ideas in mind that you really like.
This is the time when all sorts of ideas and questions will come to mind. I wholeheartedly invite you to send those questions my way. So many of my clients apologize for messaging me with questions at this point. There are no apologies needed! I am happy to help you through this thought process. Remember our goal? We want to create beautiful portraits for you to treasure and to have fun in the process. I understand that I orchestrate portrait sessions on a daily basis. Most likely, you, my client, may have a portrait session once a year or once every ten years. You will have questions and I have answers that I am happy to share. You are investing time and money in this portrait session, so we both want to make it special.
Enjoying the portrait session
The day has arrived! Yay! Here we go! Notice the title of this section: "enjoying" your portrait session. The first step is to maintain communication so that we are both clear about where and when we are meeting. If you have never met me in person, I will be easy to identify. I will be the little lady running around with a big camera and a big smile. I will want to meet everyone involved and again review our goals and any special requests that we hope to achieve. I will want to take a look at any additional outfits that will be incorporated and discuss a game plan for how we will use our time together based on the conditions of the day. This is also the time when we will take care of the signed contract and payment.
With that out of the way, let's have some fun! I will place you or your group in various settings and arrangements. Once I get you in place, prepare to see me all over the place. I will keep you in your spot, but I will be buzzing around to different angles and elevations and distances to get as much variety out of that one location as I can. This strategy adds to our efficiency and gives you more variety. I will ask you to move your head slightly this way or that. By the end, I don't even have to say anything. I love it when I barely start to move my hand and my intuitive subject does exactly what I had in mind. We become pretty connected as we work together. I will place hair, clothing, and jewelry if needed, but I always welcome other eyes (Mom) to help with that job.
During the shooting process, I must warn you that I can be rather expressive. When I look through that viewfinder and see the portrait we are creating, I become so excited and overwhelmed that I may gasp or even give the occasional "OH MY!" When I check my work on the LCD screen on the back of the camera, I am checking to see that I have used the settings that give me the desired effect. I am also checking for sharpness and to be sure that I am happy with the lighting at that location and angle. This is another time when I just can't hold back. That beautiful portrait staring back at me is energizing and sometimes emotional. I like to share some of those views with you so that you can see how amazing you look. It also helps for you to give me some feedback at this point so that I can adjust accordingly.
Viewing your portrait gallery
After your fabulous session, you go home with nothing but expectation and I go home with your beautiful portraits in my camera. That doesn't sound fair. I totally understand your excitement and anticipation. This is why I do my best to post a "First Image Edit" on Facebook so that you can see at least one of your portraits soon after our session. I take great care in editing your portraits. I want them to be perfect for you. I edit your portraits in the order in which they were captured. The portraits that I complete in one edit session will be uploaded into your gallery on my website. You will see your gallery grow over the next couple of days. I will share a few of my favorites on Facebook and Instagram as I go, so be sure to "like" my Facebook page (@lespohoto) and to follow me on Instagram (lespophoto).
Once all of your portraits have been edited and placed in your gallery, you will see some of them show up again in black and white versions or with some color adjustments. This is where I use my artistic judgement to give you some variety and create some works of art. When you see these additions to your gallery, you will know that your gallery is complete.
Ordering portraits
Many of my clients will agree that ordering the portraits is the hard part. The difficulty is not in placing the order, but rather in making the decisions about which portraits to order. You will probably want all of them. Many of my clients do order at least a small print of every portrait. The print prices are reasonable, so this really is an option.
One of the benefits of ordering from an online gallery is that multiple households can place orders independently of each other. You simply choose the portrait image that you would like to order and click on it. That portrait will be visible by itself on the screen. You will also see a list of the most common items to purchase show up on the right side of the screen. You will see the most popular print sizes listed as well as a few wall art options. You can select to add any of these to your cart. If you want to purchase an item that you do not see listed, you may click "VISIT SHOP" and you will be taken to a menu of product types. From here, you can look around and find other print sizes, types and sizes of wall art, and even gift options like mugs and phone cases.
Once you have placed all of the items in your cart that you wish to purchase at that time, you can check out and pay with credit card. Your order will be sent to me for approval. I will look for things like cropping of images and wall art choices to be sure that your order will be fulfilled at its best. If I see something in your order that I think you may want to adjust, I will contact you so that we can discuss exactly what you desire and adjust if needed. Again, I want you to be completely thrilled with your portraits. This is why I am happy to answer any questions you have along the way. The products will be shipped directly to you.
Depending on your purpose for these portraits, you may want some additional consultation. If you are planning a grouping of wall art on a specific wall of your home, I am happy to come to your home and discuss your options. I have samples of the various wall art products so that you can get your hands on them and see the quality of each piece. We may want to do some measuring and play around with shapes. We can talk about colors and balance. We can even place the order together so that you feel confident about what is coming in the mail.
If you have any desired use for these portraits that you do not see on my website shop, please let me know and we can find a way to fill that need. I offer other services such a photo book design and card design. Just share your ideas and we can explore options.
Remember that you can place multiple orders. There is no pressure to get everything in your first order. Your gallery will remain available to you for several years.
Maintaining our relationship
Capturing your portraits and providing you with these treasures is an intimate process and results in a relationship that I value. I will want to hear from you when you get your order to be sure that you are happy with your products. Your family and your needs will grow, and I would love to make that journey with you. Being your photographer is an amazing privilege.
You make the memories; I will help you cherish them.
Love and Smiles,
Laura
---
"The busy season!" Oh my! Many people find themselves in a job or other role where they can define a busy season. For accountants, March and April are typically a very busy season. For retailers, delivery services, and many others, the Christmas season is their busy season. For most photographers, especially in Ohio, September and October define the busy season. Needless to say, I expected to remain busy though those months, and I anticipated some down time to follow. I actually came up with a list of things to pursue and accomplish in my "off" season so that I would still be "busy," and more importantly, "productive."
Socket Wrench ArtFeeling a little artistic.
"Busy"
This is such a funny word when you think about it. First of all, shouldn't it be spelled "bizzy?" As you can see, the phonics lessons from the Sisters of the Humility of Mary are still ingrained in my brain from elementary school. The word "busy" is defined as having a great deal to do. And, notice that it is the base word in "business," which implies that having a business requires you to be busy. But what connotations come with the word "busy?" It really depends on the context in which it is used.
Rich - Fellow PhotographerPracticing with my new lens and lighting.
I am certainly guilty of using the word to convey both negative and positive messages. I can still hear my voice in earlier years whining something to the tune of, "I am just so busy that I don't know what to do." I am not proud of those rants, but they were part of my reality. At the time, being overly busy felt like an unavoidable part of life. Striving to be the attentive wife and mother while giving my students the best science education and experience that I knew they deserved required me to carry way more on my plate than was humanly possible. I was setting myself up for failure and making my version of "busy" a very negative, exhausting, and counterproductive part of my life.
Today, I feel the need to still use the word "busy," but in a positive and reaffirming way. When people ask me how my photography business is going, I have found myself smiling and saying with much satisfaction that, "It is great! I have been really busy!" I find that so interesting that I feel the need to share that I am busy. Why? Why do I equate being busy with the success of my photography business?
Getting more clients and more portrait sessions is an indicator of the success of my business and those things certainly keep me busy. Learning to properly account for my income, operating expenses, cost of sales, taxes, etc. keep me busy. Continually defining my brand and delivering consistent messaging about my brand keep me busy. Preparing for custom personalized sessions, being responsive to clients in the most kind and thorough manner, sharing my work in an exciting way, maintaining my equipment, refining my technique... all of these things fill my days, weeks and months. So, "busy" seems like an appropriate descriptor. Victoria and LucyPracticing with my new lens and lighting.
Nonetheless, I feel the need to change my response to something that is more appropriate for how I feel about the current state of my business. I think that we, as a society, need to stop the glorification of "being busy." It seems that there is the perception that someone must be busy in order to have worth or to be successful. "Unsuccessful people are busy being busy. Successful people are busy being productive." -Kevin Abdulrahman What a profound statement. So, maybe I need to adopt the adjective "productive" to really describe my photography business. Think about the shift in perception that comes with describing my business as "productive" rather than just "busy." It implies that my hard work is getting results and that is my goal.
So, how do I make this shift from being "busy" to being "productive?" I make sure that I am "busy with a purpose." I invest myself in the activities that I believe will help to improve my business and to better serve my clients. There are a million things that I would love to be working on right now, but I know my limitations. I know that doing a few things well will give my clients a better experience than doing lots of things just so so. "It's not so much how busy you are, but WHY you are busy. The bee is praised. The mosquito is swatted." - Mary O'Connor I want to be the bee. I want to produce something that will thrill my clients and empower my continued growth. In this way, I can ensure that the things that keep me busy have both meaning and purpose.
Griffan JosephUsing my studio space.
This recent shift from an emphasis on being "busy" to an emphasis on being "productive" has revealed some much-appreciated benefits. It really hit me one day after a trip to the grocery store. I must first explain that growing up and living in a small town means that I am related to half of the population and I have worked with the other half in one capacity or another. Well, on this particular grocery store trip, in typical fashion, I ran into several people I had not seen in a while and I did carry on some rather lengthy conversations with them. My daughters have come to expect this, but what was different this time was my attitude about the encounters. I can remember a time when I would have held the conversation out of courtesy, but inside, I would have been in knots as my stress level would rise just thinking about how much time I had lost and how I was never going to get those minutes back and that I would be up even later trying to get everything done so that the next day could happen. I think I felt my blood pressure rise just writing that sentence. That was the old "busy me." The new "productive me" came away from that very long grocery store trip full of nothing but gratitude. I felt so grateful that I could hold those conversations and be totally present and attend to what they were saying, rather than thinking about how much work waited for me. I felt gratitude that I actually have so many wonderful people around me who care to share some of their precious time talking to me. I felt gratitude that I could carry a little happy nugget from our encounter with me throughout my day. I felt gratitude that I could take some time to thank God for putting me in this place at this time and to be able to see a much bigger picture in which I have a role. Wow. What a difference.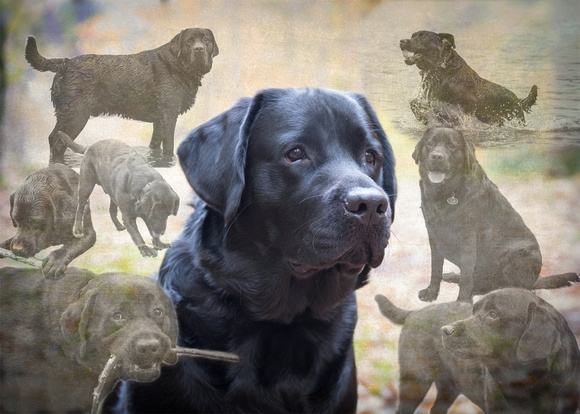 Hutch MontagePracticing my Photoshop skills to create montages.
So, I am happy to proclaim that, "My business is great! I have been really productive!" But, it is the "off" season for a photographer. How have I been productive? Oh my! I have creatively found a way to use some inside space for a studio to hold some portrait sessions. I have been working through my Business Challenge Class through PPA. I am getting totally energized by participating in the Ultimate Posing Course, and I am learning to take my portraits to the next level by working through a Photoshop course. I am participating in some wonderful networking groups and making some great new partnerships. I am practicing with a new lens and finding any excuse to shoot, shoot, shoot.
So, bring on that "busy season!" I will continue to be productive. I am so energized and excited for what Laura Esposito Photography can offer in 2018!
You make the memories; I will help you cherish them.
Love and Smiles,
Laura
---
This was a huge year for Laura Esposito Photography as it marked the beginning of my full-time dedication to running my business. In a previous blog, I discuss the circumstances that led to this decision that put myself on a path to the most challenging and rewarding career endeavor. I started by enrolling myself in a year-long business class through Professional Photographers of America. I invested in a new camera with higher resolution and better performance in a variety of light conditions. I upgraded my accessories and computer software, and even created a studio space. I spent time in various training workshops and courses to improve my skills, especially in wedding photography and photoshop. I reworked my website so that I could offer the most desirable products, and built a supply of samples to help my clients make more informed decisions when making a purchase.
Despite all of my efforts, it was my fabulous clients who made 2017 a truly great year for Laura Esposito Photography. Reflecting on all of the people who entrusted me with preserving their memories has been humbling. Below is a tribute to all of my special clients. Come with me as we take a walk down memory lane.
My roots and my specialty are high school senior portraits, so I will start by showcasing these amazing young people. They are as unique as their portraits and I was energized by every single session.
Family portraits are so special to me, because FAMILY is so special to me. Any opportunity that allows me to preserve special memories within a family is such a blessing. I worked with some very dear families this year and their portraits are a reflection of that.
Children's portraits are equally cherished as they grow up and change so quickly. With the addition of my studio this year, I was able to capture some specialty portraits despite the weather. This was rather appreciated as many families wanted something specifically for their Christmas cards. I also expanded my services and designed cards for clients this year. That was a fun way to use my creativity and help my clients save some precious time around the holidays.
After my various equipment upgrades and investing in my education and training, I found myself excited to tackle wedding photography. This year, I was honored to work with two wonderful couples as they tied the knot in 2017. My most sincere best wishes go to Kaitlyn and Aaron and Samantha and Steve as they start their lives as married couples. I have no doubts that they will continue to grow together. I'm hoping to get the call one day for a baby or family portrait session!
One of the funnest things about my job is that I never know what kind of request might be made. Sometimes, events require a professional photographer to properly document the occasion. This year, I was thrilled to take portraits for Louisville and Marlington's Proms, for Saint Joseph's First Communion, for Louisville's Girls Tennis Senior Night, and for the Palette2Palate charity event for the Stark County Hunger Task Force.
A new venture for me has been to work in the corporate realm. Product photography certainly broadened my horizons and I have made some exciting new connections. Plumbers and Pipefitters Local #94 enlisted my services for some great projects, including a four-generation portrait featuring four generations of Cramer men who were/are Local #94 Members. My photoshop skills came in handy for that one. I put my studio to good use to generate the images for the Ultimate Bucket Caddy. My husband will no longer wash a car without one. I was thrilled when school board candidates solicited my services for publicity portraits. The most rewarding job has been working with the wonderful crew at the Whole Latte Love Cafe. A smile remained on my face for a very long time after that portrait session. I owe much credit and thanks to a dear friend, Diane Adams, who is a graphic designer and helped to make many of these connections for me.
As I look to 2018, I am excited about some new directions where I would like to expand. I dabbled enough to know that I like these new ventures, and I am making plans to take some additional classes in order to sharpen my skills. I have always had a pet, and I am not ashamed to admit that my pets are always family. Growing up on a farm while showing horses makes me sensitive to the bond that one can have with their fur babies. Our family dog is truly my baby and I spoil her like crazy. Needless to say, pet photography seems like a natural fit.
This fall, I tried something new and had a BFF Session for my daughter and her very good friend. I understand that high school seniors have such great friendships, and that they know how limited their time together might be. Often, best friends part ways after high school as they go off to different colleges, enlist in the military, or simply find different paths in life. The BFF Portrait Session is an opportunity for these friends to create some fun professional portraits to treasure when their friend is no longer by their side every day. I am hopeful that other high school seniors will recognize the value in such a session and ask me to help them to preserve this moment in time together.
Family Lifestyle Portraits are gaining in popularity, and it may seem quite simple to just snap some pictures, a professional lifestyle portrait is much more complicated. That candid, "in-the-moment" look actually requires preparation and skill. I intend to work on this genre so that I can add it to my family portrait repertoire and really give my clients the variety they desire.
Another new skill that I have been practicing and hope to expand is the creation of a collage/montage. This is a reflection of one of the classes that I enjoyed this past year. I have taken the concept and made it my own. The process is extremely time-consuming, but I intend to make the collage/montage an optional add-on for any portrait session. One of my very special clients ordered their montage in a large metal wall art and it looks absolutely amazing.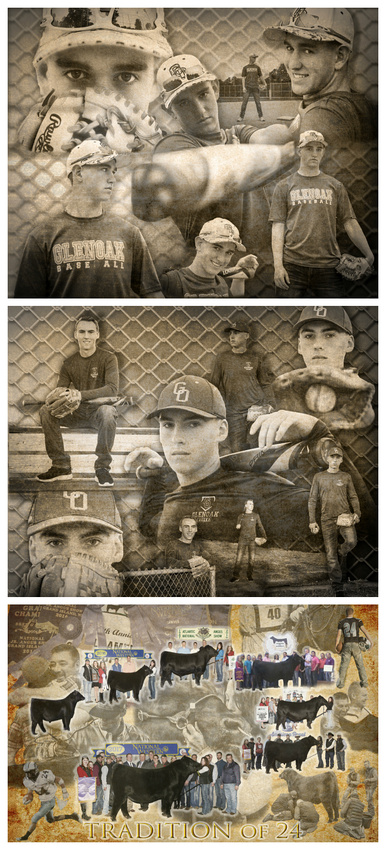 Collage/Montage
This reflection on 2017 has reminded me how fortunate I am to be able to do what I truly love. I have found my passion. Being your portrait photographer has given me meaning and purpose. To all of my past, present and future clients, I am eternally grateful for your trust and for giving me the opportunity to create beautiful and priceless portraits for you. I am ready to leap into 2018 with continued excitement and dedication to being the best portrait photographer that I can be. But, don't worry; I will never forget that it is really all about you. I'm just here to document all that is special.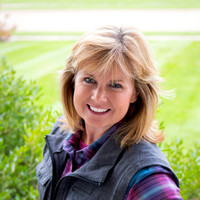 Laura Esposito, Photographer
You make the memories; I will help you cherish them.
Love and Smiles,
Laura
---
Being a wedding photographer is so much more than showing up on the day of the wedding and taking pictures. There is much preparation that takes place in order to be sure that you are properly documenting the events and capturing the desired portraits on their special day. Every couple is unique and their needs will be unique. There are no "do-overs," so you either get it the first time or you don't. You can't ask the Father of the Bride to make that adoring expression again. You can't ask the Bride and Groom to go back up there and do the first kiss over again. You can't put the cake back together and cut it again. You must be prepared to be at the right location with your equipment functioning and in the proper settings with needed supplies at your fingertips. This is why having a second shooter and assistant to support my efforts is so crucial. Preparing them with a detailed agenda for the day makes them better equipped to fill their roles. With specific times and lists of the shots I need to capture at each step in that agenda, they can help to make it all happen.

My Assistant - Chris
Meet Chris. He was my assistant for Samantha and Steve's beautiful wedding. He was integral to the process as he helped to carry equipment from one location to the next. He had a thorough understanding of the layout of my camera bags so that he could quickly produce flashes, fresh batteries and memory cards for either camera. He knew my labeling system and didn't require my specific directions to meet our needs. His height was quite beneficial as he was also the one holding the reflector at just the right angle to take advantage of the best light.

My Second Shooter - Victoria
This is my second shooter, Victoria, who captured the shots that I could not and really helped to tell the whole story from Samantha and Steve's special day. Her preparation included a coordination of the kinds of shots I wanted her to capture, a choreography of where we each needed to be during the ceremony, and collaboration on the camera settings that I wanted her to use for each application. It certainly helps that Victoria has an artistic eye and her attention to detail is needed to properly assist me in setting up my bridal party for portraits. Justifying the value of a second shooter, such as Victoria, is best achieved by showcasing some of the results.
Candid created from a different angle
One of the goals for a second shooter can be to capture different angles of the portraits. While I am setting them up and getting the traditional portrait with everyone looking at the camera, she can be getting that same shot from a different angle. The results create a beautiful portrait with a more candid, "in-the-moment" feel.
Smaller groupings within the larger one
Another goal for my second shooter is to capture smaller groupings of individuals within the larger portrait that I am creating from my angle. These are priceless and help to offer some great variety without taking any extra time. Time is a limited commodity on any wedding day, so I am extremely thankful that she can produce these additional portraits.
There is so much happening at once throughout the day of a wedding. The passing expressions or gestures can really help to tell the whole story, but only if they can be captured. Again, my second shooter is often able to be sneaky and capture those things going on behind my back. As for Samantha and Steve, they just seemed to be exuding joy, and I love that Victoria was able to catch some of their genuine laughter. She also captured a very subtle gesture of Steve making sure his new wedding band was properly in place. I think that is such a sweet little treasure.

Sometimes, you just have to laugh!
One of the times when my second shooter is most appreciated is when our entire group breaks out in laughter. That happened on several occasions with Samantha and Steve because they are such a fun couple. Above, you can see an occasion when we all lost our composure, but fortunately, Victoria was able to document the scene. It may not be the perfect "portrait," but it certainly is priceless.

Staying inconspicuous as the photographer
Another purpose that the images from my second shooter serves is for me to be able to catch glimpses of myself in the background. I am not in any way looking to provide my couple with portraits that include me. I am, however, looking to see how conspicuous I am while doing my job. Getting the perfect shot during a wedding ceremony and reception requires some finesse. I need to make sure that I am where the action is, yet do so in a way that I am not noticed. During the rehearsal, I like to have a conversation with the celebrant to discuss his or her comfort level with my movement during the ceremony, and to learn where I may and may not go. After Samantha and Steve's ceremony, I asked their celebrant, Pastor Jeff, if my work was in any way distracting. He said he didn't even realize I was there. I take that as a great compliment.
Finally, my second shooter shares my goal of getting the shots that really show the connections and emotions of the day. Each couple will bring their own unique flavor to their wedding day, and effectively conveying that through portraits is our ultimate goal. Along the way, we both find ourselves fixing dresses, inserting veils, pinning boutonnieres, fetching tissues and transporting flowers. We also can't help but share in the laughter and tears.
As a wedding photographer, I develop an intimate connection with my couple and their families. In order to tell their story, I have to become part of it. Providing couples and families with portraits from their wedding day is such a privilege and a responsibility that I take very seriously. Knowing that they will be sharing these portraits for many years to come makes me so happy.
You make the memories; I will help you cherish them.
Love and Smiles,
Laura