There was a time when a portrait only existed as a sketch or painting. With the invention of the camera, a portrait could be captured on film and developed into an image on paper or some other medium. For centuries, portraits were a luxury and treasured.
It is amazing how differently we handle our images today. Most exist on our smart phones. Some get uploaded to a website or downloaded to a storage device for safe-keeping. Some get published on social media. A small percentage actually get printed and become tangible. Finding a way to display these few "print-worthy" pictures can make all the difference in how you are able to enjoy them.
Once you find that portrait that takes your breath away, you need to decide how you can use that portrait to enhance a particular space. You also need to consider what display method would make the most of that portrait for the display location that you have in mind. There is so much to consider. My goal in today's blog is to help you to better understand the options available to you with regard to displaying portraits, and to help you determine which display option would best meet your needs.
There is a significant difference in the reaction to an image that is presented as just an image, compared to an image that is displayed with a purpose. Simply placing a picture in a frame of appropriate size and in a complementary color or texture can elevate the impact of any image. Matting can certainly have the same effect. This does not have to be a huge investment. I have often purchased large framed art that had been place on clearance simply because I like the frame. I tear it apart and place my own image inside. Many of these clearance pieces of art have gorgeous frames and matting that only cost a fraction of what it would cost to buy it all separately. You can amaze yourself with the results. That portrait can come alive with enhanced depth once you get it on the wall.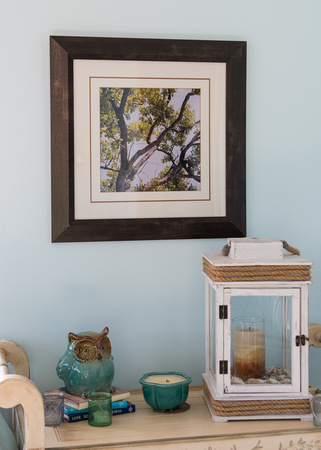 If you are wiling to be a little adventurous and invest in a portrait display method that will really be something special, then you may want to consider some of the products that I offer in a category called "Home Decor." Within the Home Decor category, I will be talking about Print Wraps, Canvas Prints, Metals and Acrylic Prints. I recently purchased examples in each of these categories so that I could share the specifics with you and help you to make informed decisions when purchasing products from my website.
Print Wraps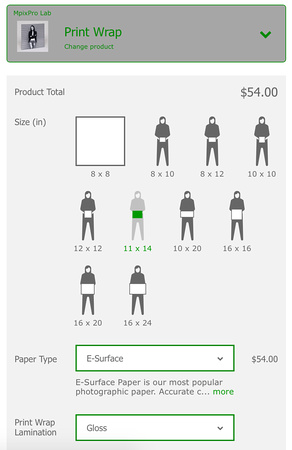 Print wraps are a fun way to give your images some dimension as the print is actually wrapped around a frame to make it a little puffy. It is about 3/8 of an inch thick. Because the edges are wrapped around the frame, you lose the ability to see the outer most edges as they get tucked into the back. The good news is that these are less expensive than canvas wraps, but are also less durable. You can choose from a wide range of sizes from 8 X 8 to 16 X 24. You can choose from the most common E-Surface paper or upgrade to the Kodak Metallic paper which has a little more luminescence. You can choose from a gloss or matte finish. I was impressed with how nicely the back is finished and that the mounting makes for easy hanging.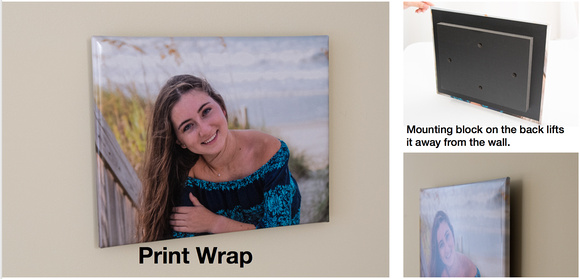 My print wrap sample that I ordered is 11 X 14 on E-Surface paper with a gloss finish. In the pictures, you can see how the corners are finished and the mounting block is attached for hanging. It is not very heavy, so wall mounting is not a big concern. You can see that the mounting block also elevates it away from the wall and makes your portrait "stand out" nicely. The E-Surface can be wiped off, but would not hold up very well if hung in a location where it could get dirty and require cleaning beyond dusting. So, a kitchen or bathroom where you have the likelihood for grease or steam could cause this print to show some wear.
Canvas Prints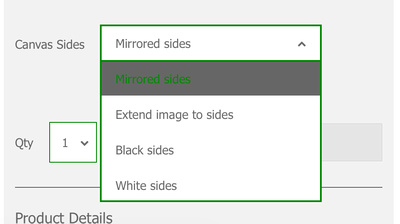 Most people have an idea about what to expect with a canvas print, as they are fairly common. These pieces are a little more expensive than a print wrap, but the improvement in quality and durability is evident. In my opinion, the canvas print really elevates a portrait to "art" status. The texture is less reflective so your portrait can be seen from most angles with no glare. The canvas prints are actually canvas gallery wraps, and how you choose to wrap will make a difference in the resulting look of the piece.
When ordering a canvas wrap, there are several choices that will impact your final product. Canvas wraps can be ordered in a range of sizes from 8 X 10 to 24 X 36. There is a drop-down menu of choices for the canvas sides. Your print is wrapped around a frame that is 1.5 inches thick, so you can choose what the sides look like. Your options are mirrored sides, extend image to sides, black sides, or white sides.
The option of "mirrored sides" is my least favorite. Your entire print will look perfectly normal from the front, but the side edges that are wrapped around the frame are a "mirror image" of what is on the outer edge of your print. I feel that it looks a little confusing for most images.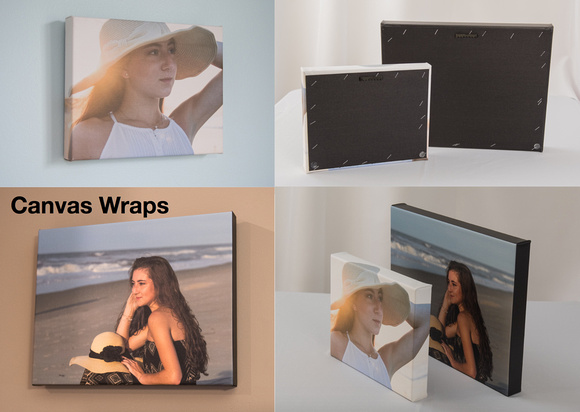 The second option, "extend image to sides," does exactly what it says. You will see less of your image on the front of the print because the outer edges are wrapped around the frame. Two of the samples that I ordered represent this option. Both the large seascape and the small close-up of my daughter in the hat are canvas wraps that extend the image to the sides. I like this option because you feel like you are still seeing the portrait as you walk from side to side. However, it is not a good option if your portrait does not have much space around the edges. You don't want important features to be lost because they are wrapped around the frame and no longer visible from the front.
The final two options, black sides and white sides, are basically the same. The entire image will be visible on the canvas from the front. There is no image on the side edges. The sides are painted black or white, depending on the preference you indicate. The sample of my daughter sitting on the beach shows the black sides option. I am very pleased with this look, as well, because I feel it frames the portrait and you don't loose the ability to see any parts of the image from the front.
These canvas wraps are finished nicely on the back where the canvas is secured by many staples. They are ready for hanging with hardware appropriate for the size. The large 24 X 36 of the seascape has a very sturdy wire for hanging that is more than sufficient since the canvas and frame are fairly light. The other two sizes shown are 11 X 14 and 8 X 10 and have brackets attached for hanging.
Metals
The modern metal print is a fairly new option to my customers and I really wasn't sure what to expect. Let's just say, it is exactly what its name implies. It is a really cool modern look and it is metal. Now, if you are looking for durability and you want the colors to pop, then this may be the option for you. The website description says it best, "Add contemporary style to your photography with aluminum prints. Images are printed using a dye-sublimation process to create a stunning finished product." At only $49.99 for an 11 X 14, it is a very enticing choice.
These are truly amazing! I'm not sure how they get it to look so glossy and vibrant, but I was so impressed when I opened the box. As you can see from the pictures above, the easy mounting block on the back elevates the portrait away from the wall to add even more dimension. Modern metal prints come in sizes ranging from 8 X 10 to 20 X 30. I can just imagine these hanging in a business or restaurant. A home or office with a modern flair would receive a nice upgrade with these modern metal prints on the walls.
Acrylic Prints
The final Home Decor product that I am featuring in this blog is the acrylic print. I would have preceded that statement with a drum roll if I had audio because the acrylic print is truly something special. The website description says, "After the photo is printed directly to the 1/4" acrylic, a layer of opaque white ink is screen printed on the back to create a product that highlights the vibrant colors and fine details of the image." Wow! That's all I can say. Just let a little light pass behind the image and it absolutely glows. It comes with four stainless steel "standoffs" for mounting onto the wall. The mounting is rather permanent, so be sure you are willing to live with the portrait in that spot for a long time. I have not mounted mine because I intend to bring it with me as a sample when I meet with my couples for wedding consultations.
Acrylic prints only come in four sizes ranging from 16 X 16 to 19.5 X 23.5. They are an investment, but will look fabulous forever and can be easily wiped clean.
This summary shot shows a close-up of the corners of each home decor product for ease in comparison. Hover over the image to reveal the caption that will identify each home decor product.
Top left - Canvas Gallery Wrap . Top right - Print Wrap . Bottom left - Modern Metal . Bottom right - Acrylic
As with all orders, there is a charge for shipping. Mpix goes the extra mile when packaging your order to be sure that it arrives at your doorstep safely. Every product was carefully wrapped in several layers of protection and secured in place with tape inside the box so that there is no bumping the sides of the box in transport. My only complaint is that it took me a long time to get through all of the layers to see my beautiful treasures inside.
I am always available to assist my clients with the ordering process, and I would be happy to offer advice about sizes, product choices, and placement in your home or office. The possibilities are endless. So, as you browse through your gallery of portraits, you may be looking with a new purpose. Take that favorite portrait(s) and elevate it (them) to a level of even greater impact. I am certain that you will love your portraits even more.
Love and smiles,
Laura